Newer Antipsychotic Drugs Not Better, Swartz Says
The second generation of antipsychotic drugs, introduced in the 1980s and 1990s, are not more effective than the first generation produced decades earlier, a recent news-making study revealed. One of the study's principal investigators, Dr. Marvin Swartz of Duke University's Department of Psychiatry and Behavioral Sciences, pointed to the results as revealing both the consequences of imperfect drug trials led by drug makers and the need for better research on drugs' costs and benefits, during the Law School's 12th P. Browning Hoffman Lecture April 10, sponsored by the Institute of Law, Psychiatry and Public Policy.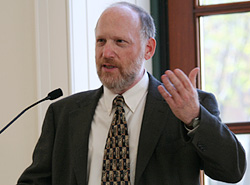 Physicians believed first-generation drugs induced negative neurological side effects in the patients who took them, Swartz said, which helps explain the "unbridled enthusiasm" that greeted the second-generation drugs, or SGAs. SGAs were also touted for creating better outcomes in a more cost-effective way. Most studies of SGAs were small-scale, drug industry-sponsored trials, Swartz said, and recent scholarship in the American Journal of Psychiatry shows that "90 percent of the time a drug that sponsors a study wins the study."
The second-generation drugs "were not put head to head with another active agent," Swartz said, but instead were tested against placebos.
"These studies have a number of design problems," he added. "The data that suggests they are superior is very thin [yet] despite the lack of strong literature, somehow second-generation antipsychotics took hold of the market."
Prior to the introduction of SGAs, antipsychotics were a $1 billion industry — now they bring in $15 billion a year. "Largely this is a public policy issue because the public pays for the incremental cost of these drugs," he said, because the cost primarily affects the Medicaid budget. A typical SGA, Zyprexa (olanzapine), costs $25 a day, while perphenazine is only about $2 a day.
Swartz helped design the $40 to $60 million CATIE (Clinical Antipsychotic Trials of Intervention Effectiveness) study, funded by the National Institute of Mental Health, to examine how several first- and second-generation drugs compared in cost-effectiveness, outcomes, and side effects. The broadest study of its kind, Phase 1 followed the results of medication on 1,460 schizophrenia patients from diverse geographic and demographic backgrounds. The test for success was whether the patient remained on the drug. Researchers consulted with the drug companies who provided the drugs for the study to see what doses they found acceptable.
Seventy-four percent of patients discontinued the drug they originally took and either switched to another drug or left the trial within 18 months. The median amount of time patients stayed with a drug was six months, which is fairly typical among schizophrenic patients, Swartz explained.
The study also showed that olanzapine (Zyprexa), a popular second-generation drug, statistically "is not superior to perphenazine and not superior to ziprazadone." Olanzapine also was not more effective than other drugs in terms of "pan-symptom decrease" over time, although the drug resulted in lower rates of hospitalization and was well-tolerated.
More critically, olanzapine caused 30 percent of patients to gain 7 percent of their body weight during the course of the study, and also increased fasting glucose (a marker for diabetes) and fasting triglycerides, potentially offsetting any positive effects.
By contrast, the first-generation drug perphenazine proved to be as effective as three of the newer drugs in the study."We used perphenazine in a much lower dose than was typically used with first-generation antipsychotics," he said.
"We recognized that there was a literature that suggested that folks had massively overdosed people with first-generation antipsychotics."
Swartz noted that prescribing patients SGAs results in an annual cost increase per patient of $2,400 to $6,000 — a huge amount considering that perphenazine could be as effective. The study raised a host of other issues: Do schizophrenic patients have the ability to evaluate long-term risks like metabolic changes and risks to cardiovascular health? Do Medicaid or state formulary constraints help (by saving money) or hurt (by limiting access to drugs patients may need)? Some of the older drugs may be cheaper, but create associated costs; chlozapine, for example, requires weekly blood draws from patients, taxing health industry resources.
But perhaps the most pervasive problem the study revealed is lax industry-sponsored studies.
"A lot of what physicians learn, they're learning from pharmaceutical representatives or pharmaceutical literature," Swartz said.
He noted that drug maker Eli Lilly is already facing a $500 million lawsuit from 18,000 claimants for not disclosing diabetes risks caused by Zyprexa.
Swartz said a follow-up study is needed to evaluate the long-term risks of first- and second-generation antipsychotic drugs, including the troubling risk of weight gain. Researchers also haven't considered the significant off-label use of antipsychotics, many of which are prescribed to children with Attention Deficit Disorder.
Although the number of people who change drugs is disheartening on its face, Swartz argued that "over time, people who stay with treatment do do better.
"This [study] also highlighted for me the real limitations of drug treatment," he said, noting the need for more progressive treatment — counseling and other measures — to ensure patients stay on their medication."
Founded in 1819, the University of Virginia School of Law is the second-oldest continuously operating law school in the nation. Consistently ranked among the top law schools, Virginia is a world-renowned training ground for distinguished lawyers and public servants, instilling in them a commitment to leadership, integrity and community service.