Verkerke Wins All-University Teaching Award
Law professor J.H. (Rip) Verkerke, director of the Law School's Program for Employment and Labor Law Studies, recently received an All-University Teaching Award from the University of Virginia.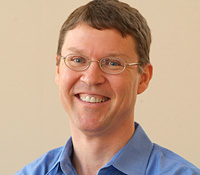 "I believe that truly successful teaching requires an instructor to embody his or her deepest values and invite students to share those commitments," Verkerke said. "By sharing my thought process with students, I encourage them to participate in the discovery of knowledge and understanding."
Verkerke's students sing his praises: "This has been the most intellectually engaging class I have taken in my three years here at UVA," "Professor Verkerke rocks," "what I hoped law school would be like when I started: challenging, engaging, collegial," "I absolutely loved this class."
Dean John Jeffries noted, "There are no bad classes, no difficult subjects, no 'off' years. Rip is always excellent."
"Rip is the kind of teacher I'd like to become," said law professor Richard Schragger. "He is hardworking, energetic, deeply committed to his students and wonderfully good-natured."
Best teaching experience: Every time a student truly understands a point or lights up with enthusiasm about a legal issue is a little triumph that makes me happy to be teaching. It is also a great thrill to hear from former students about their personal and professional accomplishments.
Most surprising classroom moment: That's hard to say. I'm sometimes surprised at what comes out of my mouth, but one episode stands out in my memory of this year. In Contracts, we were discussing a shop-worn hypothetical involving the breach of a contract to sell several tanker trucks of oil. I've always struggled a little to explain why a buyer from New York would be willing to pay more than the going rate for the oil. This time it popped into my head that maybe New Yorkers use the oil for an especially valuable purpose — vegetable oil wrestling. Much hilarity ensued.
Favorite class to teach: Surely you jest! I love teaching every class.
Best place to grade: Grading exams is the only unpleasant part of my job. To make the job more bearable, I like to pour a glass (or two) of good wine and retire to the Ekornes Stressless lounge chair in my home office. I like to think that my students benefit when I'm comfortable and in a good disposition while grading.
What helps students learn course material best? Frankly, I have no idea. I'm always willing to try something new. I try to keep doing whatever seems to work — repetition, concrete examples, humor, carefully dissecting complex arguments, jumping up and down, asking questions, repetition, animated diagrams, passionate diatribes, maintaining a class Web site, posting digital recordings of each class, repetition, cold calling, take-home assignments, giving midterm exams, answering lots of questions, and yet more repetition.
Did you ever consider a career other than teaching (and if so, what)? Growing up, I was an avid sailor. For several years during my teens, I thought that being a naval architect would be the perfect job. I read a lot about sailboat design and even went to a couple of naval architecture conferences at the Naval Academy in Annapolis. But after MIT rejected my application for admission as an undergrad, my dream of designing the next America's Cup defender faded. Since then I've worked in construction, as a lowly clerk in an investment banking firm, and doing odd jobs. I can't imagine a job — aside from being paid an obscene amount of money to play professional soccer — that I could possibly enjoy more than law teaching.
Any advice to new teachers or to J.D.s wishing to enter academia? Students interested in law teaching should try to develop good relationships with potential academic mentors. (If you are genuinely interested in the topic and not just angling for class participation points, then in my book it's not sucking up to your professors.) Get good grades. And then write, write, write, and write some more.
Although many incentives in academic life encourage professors to focus exclusively on research and minimize the effort they devote to teaching, I would encourage new teachers to resist this temptation. At Virginia, our faculty culture values great teaching. However, even if your colleagues are content with an indifferent performance in the classroom, your students will appreciate your efforts. Far from being an unwelcome chore, your many hours spent in the classroom can allow you to forge a connection with students and share not just your knowledge but also your passion for your subject.
Founded in 1819, the University of Virginia School of Law is the second-oldest continuously operating law school in the nation. Consistently ranked among the top law schools, Virginia is a world-renowned training ground for distinguished lawyers and public servants, instilling in them a commitment to leadership, integrity and community service.