Dean Jeffries to Co-Direct National War Powers Commission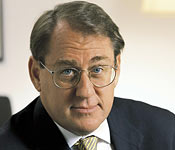 University of Virginia Law School Dean John C. Jeffries, Jr., has been named co-director of the National War Powers Commission, a private bipartisan panel led by former Secretaries of State James A. Baker, III and Warren Christopher. Formed by the Miller Center of Public Affairs at the University of Virginia, the Commission will examine how the Constitution allocates the powers of beginning, conducting, and ending war.
"Serving under Jim Baker and Warren Christopher is a real privilege," said Jeffries. "The credit for securing their leadership and for organizing an impressive array of talent to serve with them goes to [Miller Center Director and former Virginia Gov.] Jerry Baliles. I hope our efforts will justify the extraordinary human resources devoted to this topic."
Jeffries, along with co-director W. Taylor Reveley, III, dean and John Stewart Bryan Professor of Jurisprudence at the William & Mary School of Law, will lend their legal expertise and help guide the conversation of the Commission.
"Few matters are more important to our nation than how we make decisions of war and peace," Baliles said. "But war powers questions have bedeviled a host of presidents, members of Congress, and judges for more than 200 years. With its wide-ranging experience, this Commission is uniquely qualified to attempt to provide insights into how best to resolve these difficult questions."
Commission Co-Chairs Baker and Christopher have worked with Baliles to assemble Commission members (in alphabetical order): Slade Gorton, former U.S. senator from Washington; Lee H. Hamilton, former member of Congress from Indiana; Carla A. Hills, former U.S. trade representative; John O. Marsh, Jr., former secretary of the Army; Edwin Meese, III, former U.S. attorney general; Abner J. Mikva, former chief judge of the U.S. Court of Appeals for the District of Columbia Circuit; J. Paul Reason, former commander-in-chief of the U.S. Atlantic Fleet; Brent Scowcroft, former national security advisor; Anne-Marie Slaughter, dean of the Woodrow Wilson School of Public and International Affairs at Princeton University; and Strobe Talbott, president of the Brookings Institution.
Pulitzer Prize-winning historian Doris Kearns Goodwin will serve as the Commission's historical advisor. John T. Casteen, III, president of the University of Virginia, and David W. Leebron, president of Rice University, will serve as ex officio members.
The panel is expected to convene its first meeting April 3-4.
The Commission's staff director is Andrew J. Dubill '01, a graduate of Princeton University and Virginia Law, who left the private practice of law to join the Commission.
The James A. Baker, III Institute of Public Policy at Rice University, the Freeman Spogli Institute for International Studies at Stanford University, Stanford Law School, the University of Virginia School of Law, and the William & Mary School of Law will serve as partnering institutions. The Miller Center has convened nine national commissions during the past quarter century, including the Commission on Federal Election Reform in 2001, co-chaired by Presidents Jimmy Carter and Gerald Ford.
Founded in 1819, the University of Virginia School of Law is the second-oldest continuously operating law school in the nation. Consistently ranked among the top law schools, Virginia is a world-renowned training ground for distinguished lawyers and public servants, instilling in them a commitment to leadership, integrity and community service.