FEC Weakened by Vacancies, Says Former Chairman
With only two sitting commissioners to oversee what will likely be the most expensive presidential election in history, the U.S. Federal Election Commission (FEC) is currently crippled, said Scott Thomas, former FEC chairman and commissioner, in his keynote address Feb. 23 at a Law School conference focusing on election law. Sponsored by the Journal of Law & Politics and law firm Caplin & Drysdale, the conference, "The Way We Choose: A Symposium on the Future of American Election Law," featured presentations by some of the field's most prominent scholars and activists on topics including race and the future of the Voting Rights Act, campaign finance, and the Carter-Baker Commission recommendations.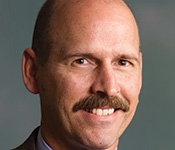 Without at least four commissioners, the FEC can do little to curb the influence of outside interests on elected officials' decisions, said Thomas, who served as commissioner from 1986 to 2006. Politicians have blocked the FEC from gaining the additional commissioners needed to fill the vacancies. "It's a real political mess," he said. One nominee's appointment has stalled due to his controversial background; one of the congressmen blocking the appointment is Sen. Barack Obama, Thomas said. "I assume it's going to be a funny story of how one of the major presidential candidates is involved in trying to block the Commission from getting back into operation."
Campaign financing has been controversial from the first U.S. elections, Thomas explained. It became apparent that regulation was necessary with Theodore Roosevelt's election in 1904. He asked his friends for financial support, and in exchange many wanted to have control over Roosevelt's decisions as president.
"If you think about this idea that if you provide some campaign support for somebody you can buy them, we've got a problem," Thomas said. "That's what regulating money in politics has been about since day one."
After his election, Roosevelt proposed moving to a system of presidential public financing. Congress responded with the 1907 Tillman Act, which prohibited corporate contributions to candidates. It was later expanded in the War Labor Disputes Act of 1943 to ban contributions from unions as well.
Following these efforts, few policies to regulate campaign financing were implemented. There were "feeble" attempts to put into place contribution and spending limits, but loopholes and a lack of respect for the rules caused rampant violations. Thomas explained that during the Watergate era, the dairy industry committed to raising a few million dollars for President Richard Nixon's re-election effort. The next day the president signed an executive order increasing government payouts for the dairy industry, giving them millions of dollars in subsidies. Other stories surfaced of corporations and unions illegally supporting candidates. "It was apparent that across the board, to the extent there were rules, they were just being ignored and there was wholesale violation of the existing limits and prohibitions," he said.
In 1974 Congress passed the Federal Election Campaign Act Amendments, which set contribution limits, established a disclosure system and public funding of presidential elections, and created the FEC to enforce federal campaign finance laws. When the FEC opened its doors in 1975, Thomas interned in the office and stayed on board after law school, eventually becoming a commissioner and chairman.
The year after the FEC was established, the Supreme Court struck down the provision in the amendments that set expenditure limits for campaigns in Buckley v. Valeo, and reworded some of the guidelines, making them difficult to enforce. "After the Buckley decision, we were left with a patchwork of analytical approaches to try to regulate campaign finance with regard to independent spending," he said.
More recently, Congress passed the Bipartisan Campaign Reform Act (BCRA) in 2002 to regulate radio and television ads that run within 30 days of a primary election or 60 days within a general election. Ads that are run during this time frame are subject to the electioneering communication rule, meaning corporate and union resources cannot be used to fund the ads, Thomas said. BCRA was upheld by the Supreme Court in 2003 in McConnell v. FEC, but was modified last summer in FEC v. Wisconsin Right to Life, Inc. The Court held that the electioneering communication rule could not be applied to ads that were not functionally equivalent to "express advocacy," a ruling that further complicated regulation. The Court defined express advocacy as language used in advertising such as "vote for," "defeat," or "support."  
"We are now facing a Supreme Court that is not likely to give much slack to anyone crafting any legislation to try to reign in any of the outside coordinated speech," Thomas said. The FEC created guidelines for candidates that would make their messages safe from litigation. By avoiding talk of the election, particular candidates, political parties, and voting, and by not taking a position on any candidate or office holder's character, qualifications, or fitness for office, the ad will not be subject to the electioneering communication rule. However, candidates will push the limits, he said. "A lot of people want to go further. Obviously, a lot of people want to put in something that really criticizes — to be honest, nails somebody — for a past vote they've taken and we're going to see a lot of folks testing this proposition in the upcoming election."
Regulating soft money, or money that is given to a political party for "party-building" activities, has been another struggle for the FEC. Soft money has fewer restrictions and political parties have come up with creative ways to use soft money to finance federal campaigns. In the 2004 election, about $400 million in soft money was raised and spent in connection with federal elections. "That sort of undermines the effort to try to stop the soft money going through the party committees," Thomas said.
Once the FEC gets back to full strength, Thomas recommended a crackdown on outside groups that are functioning as "political committees" but have somehow evaded that official status.
Founded in 1819, the University of Virginia School of Law is the second-oldest continuously operating law school in the nation. Consistently ranked among the top law schools, Virginia is a world-renowned training ground for distinguished lawyers and public servants, instilling in them a commitment to leadership, integrity and community service.