N.J. Attorney General Urges Students to Follow Their Hearts to Right Career
New Jersey Attorney General Anne Milgram told students to follow their own career paths in her opening address to the ninth annual Conference on Public Service and the Law Feb. 8 at the Law School.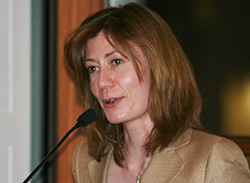 "Do what's in your heart," Milgram said. "Up until becoming attorney general I had always said that I had turned down many better jobs than I had taken. And I turned them down because I wanted to follow my heart and do what I felt was right."
Milgram began her career in the Manhattan district attorney's office in 1997. By 2001 she was working in the criminal section of the civil rights division of the U.S. Department of Justice, where she rose to become the lead federal prosecutor in the nation for human trafficking crimes. She became first assistant attorney general for New Jersey in 2006 and 17 months later was appointed New Jersey attorney general.
Milgram's family has a tradition of serving the public; her grandmother and mother were both teachers, while her great-grandfather and grandfather were both police officers and eventually chiefs of police in South Amboy, N.J.
Milgram said that when she was in law school at New York University she imagined that she would someday do public interest law, but probably not at first. It wasn't until she clerked for U.S. District Judge Anne Thompson that she decided to become a prosecutor. Thompson was the first woman prosecutor and first African-American prosecutor in New Jersey. Milgram described her as "a true trail-blazer in her own right and a phenomenal woman."
Thompson told Milgram that sometimes she couldn't believe that she was getting paid to do work that she loved that much. Milgram said, "I thought that if I could love a job that much…then that's the kind of work that I want."
That inspiration led Milgram to the district attorney's office in Manhattan and eventually to the Department of Justice. It was there that Milgram found the kind of substantive cases that really motivated her. "I could never have done work where I could help so many people and do so much as I did at the Department of Justice."
Milgram spoke passionately about her job as attorney general, describing it as "fantastic."
"I wake up in the morning and think, 'What is a problem in this state and what can I do about it today?'" she said, adding, "That is probably the most gratifying work that anyone can have."
She admitted that it was difficult in law school because, "you see that there's a path and you do see what the right things to do are…but you have to make your own path….You really have to figure out what it is you're going to be interested in doing." Echoing her mentor, Milgram said, "If you do what you like, you'll be good at it."
Founded in 1819, the University of Virginia School of Law is the second-oldest continuously operating law school in the nation. Consistently ranked among the top law schools, Virginia is a world-renowned training ground for distinguished lawyers and public servants, instilling in them a commitment to leadership, integrity and community service.