Protocols Needed in Online Child Self-Exploitation Cases, Says Leary
It's a crime in which the victim is also the criminal—so whom do you prosecute? Underage youths who exploit themselves online can be subject to criminal pornography charges, explained child abuse expert Mary Leary at a Law School event Feb. 5, but so far courts are applying the law unevenly. Leary, the former deputy director for the Office of Legal Counsel at the National Center for Missing and Exploited Children and the former director of the National Center for the Prosecution of Child Abuse, proposed a better way to deal with what she called "self-exploitation" cases.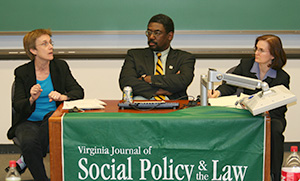 Leary, currently an assistant visiting professor of law at Catholic University, spoke to a crowded room of more than 60 Virginia Law students at the event, sponsored by the Virginia Journal of Law and Policy. Leary is writing an article on the subject for the journal. Virginia Law professors Anne Coughlin and Stephen Smith responded to her remarks.
Juveniles or teens are practicing "self-exploitation when they take sexually explicit photos of themselves and others and distribute them, without coercion or grooming from an adult," Leary said. She cited recent news stories from several states in which teens had taken photos of themselves or others using their cell phones, the images of which were then distributed to friends, some of which ended up on unrelated Internet sites.
"The reality is that whenever a juvenile …creates the images of sexually explicit activities and then distributes them, they have now produced child pornography and they have now distributed it," she said.
Prosecutors are unsure how to proceed. "On the one hand we have taken…a very aggressive stance with regards to child pornography…and consequently we have pretty severe criminal penalties," she said. Pointing to the more lenient juvenile court model, Leary continued, "On the other hand…we recognize that often destructive behaviors by a minor can be the result of someone perhaps not fully mature enough to appreciate the social harm of the activity they are causing."
Leary made it clear that she does not advocate mandatory prosecution. She suggested instead that jurisdictions develop a protocol of factors to help prosecutors assess whether or not a particular case should even be prosecuted. Leary stressed the urgency of adopting such protocols, noting the rapid proliferation of Internet-ready phone technology and the widespread use of personal Internet sites.
"When it involves technology, today's problem is tomorrow's epidemic," Leary warned.
Drawing from research by experts in the social-science field, current sentencing guidelines, and guidelines regarding the severity of images from Canada's National Exploitation Coordination Center, Leary proposed protocols that fall into two categories.
The first she called "youth specific." Leary said prosecutors should look at the cause behind the exploitation, the juvenile's willingness to be treated, the support network, the age, and the frequency of the exploitation.
She called the second factor "crime specific." Here, Leary advocated looking at the circumstances around the exploitation, whether or not other youths are brought into the production, the role of particular youths in the production, whether it was for commercial purposes, the extent of the distribution, and the theme and severity of the images.
The justice system should intervene in these cases to try to prevent such individuals from turning majority age and continuing the practice, expanding it to perhaps include others who are still juveniles and therefore becoming the target of much more serious charges with harsh mandatory minimum sentences, she said.
Citing statistics from numerous studies, Leary warned that "to ignore the reality of the social harms that these images cause, simply because a juvenile created them, and to take prosecution off the table, would be disingenuous to the duties we owe those children."
In his response to Leary's remarks, Stephen Smith agreed that the problem was complex and that the goal of protecting children was important. He said the question, however, was simple: "Is arresting and prosecuting children for producing pornographic images of themselves...an appropriate response to this particular problem?"
Arguing that there is a role for criminal law to play, Smith insisted that, "the goal is simply to rehabilitate these children… to get them to see the error of their ways and to have an intervention that will lead them to stop putting those images out there and exposing themselves to danger." He added, "The heavy hand of criminal law is not what they need."
Smith questioned why Leary's protocols were needed for this particular area of criminal law when vast regions of criminal law don't use such guidelines. "What we're dealing with today is a question of prosecutorial discretion," he said.
Smith likened the prosecution of self-produced child pornographers to the prosecution of those who attempt suicide. "A suicide attempt is a cry for help…The proper response from a compassionate society is to help people in those situations, not to add legal trouble and incarceration to their list of woes.
"We live in a very sexualized society and society can say all it wants to—that children shouldn't have sex under age 18...but, we know that they do," Smith said. "If teenagers are sexually active and they record themselves, is that really something we want to get involved in the criminal justice system with heavy penalties?"
Smith suggested that children who post images of themselves may be troubled, or victims of abuse themselves. Prosecuting teens, even in juvenile court, could still result in significant consequences. "Minors convicted in juvenile court of pornography offenses can be required to register as sex offenders."
Smith suggested two instances in which prosecutors may want to file criminal charges. "One is as a hammer…to get juveniles to cooperate with law enforcement to apprehend sexual offenders." The other is as an inducement to get teens to "stop making these images…get counseling, get these materials out of circulation." Such a tactic would be as "a last resort and therapeutic in purpose. The goal is to have an intervention that will get this child on the right track."
In her response to Leary's remarks, Anne Coughlin urged caution in the use of inflammatory rhetoric in discussing controversial issues such as this because, "The rhetoric obscures much more than it clarifies.
"We can't talk about 'pestilence'—we've got to talk about the underlying thing," she said.  "If it's pestilence…we don't need the criminal law."
Coughlin noted the distinction between teens having sex and photographing it and the traditional notion of child pornography. "We're talking about a very narrow category…self-exploitation by 15- to 17-year-olds. So, what's the harm?" The harm, she offered, was the creation and dissemination of the image. Even so, Coughlin said, "I'm just not sure I'm prepared to say that that's noxious or toxic.
"Are these troubled children?" Coughlin asked. "Nobody fits into school when they're 15 to 17," she answered, adding, "Everybody these days turns to the Internet and Facebook, that's where they live, that's where they talk…The fact that a child is turning to the Internet is not a sign that it's a troubled child.
"This is a serious social question," Coughlin said. "I don't think that the larger harms are created by this specific group. It's created by a culture that objectifies children."
Coughlin warned that quick criminal law fixes left to the discretion of local prosecutors could not be trusted. Such "fixes" might also be used against a wider community of people with alternative sexualities.
Founded in 1819, the University of Virginia School of Law is the second-oldest continuously operating law school in the nation. Consistently ranked among the top law schools, Virginia is a world-renowned training ground for distinguished lawyers and public servants, instilling in them a commitment to leadership, integrity and community service.