Mroz, Hollander Win Moot Court Competition
In the minutes leading up to the final round of the 79th Annual William Minor Lile Moot Court Competition Saturday, teammates Rebecca Mroz and Michael Hollander practiced their arguments together one final time before delivering them in front of three federal appeals court judges. The pair had spent weeks drilling each other on all the possible questions the judges could ask. They practiced their speaking styles, hand gestures, eye contact, and all of the details that could possibly impact the judges' impressions. In the end, that polishing paid off — Mroz and Hollander won the competition and Mroz took home the title of Best Oralist.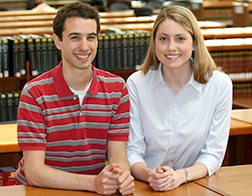 "Right beforehand we said to each other, 'No matter what happens, we had such a great time working together,'" Hollander said. "We learned so much about arguing and brief writing and all sorts of advocacy that we would have been happy no matter what, but, of course, winning was amazing."
"For us, the journey of getting there really was what was important," Mroz added. "We would have been satisfied and happy either way."
Mroz and Hollander argued on behalf of the United States against a fictional appellant who had pleaded guilty to a felony charge of tampering with evidence. His DNA was taken and entered into a federal database. Eighteen months after he was fined and released, his DNA was found to match blood evidence from a crime scene where a postal worker was murdered. 
Hollander took on the question of whether a state statute that requires all convicted felons to submit a DNA sample for indexing violates the Fourth Amendment. He argued that it was constitutional. 
Mroz undertook the second component of the case, in which one of the jurors at the appellant's trial was tagged by the defense as biased because of her employment with the prosecutor's office. Mroz addressed whether, consistent with the Sixth Amendment's requirement of an impartial jury, an employee of the prosecutor's office may be seated on a criminal jury if that juror states that she believes she can be impartial. Mroz argued that the employee could be impartial because she worked at a satellite location, indirectly for the prosecutor, and dealt only with old case files. The other team, Adam Gordon and Lucien Smith, represented the appellant.
About half of the class of 2008 — 188 students — entered the competition in their second year. The pool dwindled to just two teams after battles in the quarterfinal, semifinal, and final rounds throughout the students' third year.
U.S. federal appeals court Judges Michael Boudin from the First Circuit, Boyce Martin '63 from the Sixth Circuit, and Pamela Rymer from the Ninth Circuit presided over the competition. When they read their decision, Mroz and Hollander were elated. "We were fortunate that we had a really great bench. It was clear that they had read our briefs beforehand," Mroz said. 
Mroz and Hollander teamed up almost three years ago after first-year oral arguments; Hollander won the award for best brief and Mroz won the award for best oral argument. 
"Our strengths really do work well together," Mroz said. 
"This certainly isn't something that either of us could have done on our own. We couldn't have sat in a room and practiced by ourselves and done nearly as well as we had done," Hollander said. 
They agreed that balancing the workload of the moot court with coursework and life wasn't easy. "I think the balance came out in favor of moot court," Hollander joked.
"It was difficult, especially in the week leading up to the oral argument," Mroz added. "You tend to get so focused on your argument and you think about it all the time." 
After their third-round arguments, Professor Rip Verkerke advised them to think of their oral argument as a conversation with the judges, using it as an opportunity to address the weaker points of their case. 
"I think that changed my whole outlook in terms of not being afraid of the hard questions — seeing it as an opportunity to show the judges that we really thought about that issue and how it worked into the rest of my argument," Mroz said. 
Instead of laying out every point of their case during oral arguments, the team used the hearing to focus on the issues that really matter to the judges, a strength that Judge Boudin praised in his closing remarks.
After graduation, Mroz will begin her job in the litigation group at Orrick, Herrington & Sutcliffe in Washington, D.C. Last year, Mroz, a Princeton graduate, was a Dillard Fellow, peer adviser, and served on the editorial board of the Journal of Law & Politics. This year she served on the search committee for the new Law School dean. 
Starting this summer, Hollander will be working with the immigrant population on labor issues while serving as a Skadden Fellow at Community Legal Services of Philadelphia. A graduate of the University of Virginia's Engineering School, Hollander worked for the Migrant Farmworker Project, served on the Public Interest Law Association board, and was a Peer Advisor. He is also a member of the Cowan Fellows Human Rights Study Project, which recently returned from a research mission in Uganda. 
"A lot of people say Moot Court is one of those activities in law school that they get the most out of in terms of what they learn about writing and oral advocacy. For me, it was kind of a blend of two things that I really enjoyed," Mroz said.  "I found it to be a great opportunity to learn about some of these issues more extensively, so it turned into something more than I thought it would. I'm happy I did it."
"I don't think I ever realized when we started how much work it was going to end up being, but I'd certainly go back and do it again," Hollander said.
Founded in 1819, the University of Virginia School of Law is the second-oldest continuously operating law school in the nation. Consistently ranked among the top law schools, Virginia is a world-renowned training ground for distinguished lawyers and public servants, instilling in them a commitment to leadership, integrity and community service.