Robinson Slows Down Long Enough To Retire
Most academics don't start teaching new classes and writing new books at the end of their careers. So some of Glen Robinson's colleagues are a little surprised that the law professor and former FCC commissioner is retiring this year.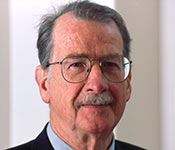 "He does not show any signs of slowing down at all," Professor Tom Nachbar said. "It's going to be quite a shock to me to actually see him retire."
Robinson is wrapping up a career of scholarship and teaching that covered a wide breadth of topics, including property, administrative law, antitrust, torts, intellectual property law and communications law. Rejecting the notion of a lighter workload as he approached retirement, he is co-authoring a casebook on communications law with Nachbar that will be published this fall.
"It just seemed like the time to step aside," Robinson said. "There comes a time when you just think it's the right thing to do."
Just two years ago, Robinson began teaching the Law School's intellectual property survey course, even though he'd never taught the subject before.
"My colleagues said I was crazy to try to do it," Robinson said. Intellectual property is now one of his favorite subjects.
This sort of scholarly curiosity has shaped Robinson's career. Born and raised in Utah, Robinson attended Utah State for two years before transferring to Harvard, where he studied political theory. After that, he decided to go to law school at Stanford, which then had a small program of fewer than 100 students, because he thought he wanted to practice on the West Coast.
"It turned out that that was really quite a silly reason to go to Stanford," he said, since he later decided to practice on the East Coast — because "the quality of the law practice seemed better there."
He began his legal career at Covington & Burling in Washington, D.C., where he initially focused on communications law, helping "fat-cat broadcasters" in their "struggles" with the FCC.  His practice was interrupted for two years while he fulfilled his ROTC commitment by serving with the Army Armor Corps in Fort Knox, Ky., as a company commander of a tank unit.
After a few more years practicing law, including antitrust and food and drug work, Robinson decided to put himself on the academic market.
"I wasn't learning anything new or interesting in practice," he said, though "I didn't have much of an idea of what academic life would be like."
In 1967 he secured a job with the University of Minnesota Law School, where he taught subjects such as administrative law and torts for seven years.
"It was a nice environment — very friendly, very social, high-quality people," Robinson said, but with "awfully cold" winters.
Through what Robinson called a "series of accidents,"  a friend serving as a presidential adviser at the Office of Telecommunications Policy recommended him for a vacant commissioner post with the Federal Communications Commission. He didn't get the initial appointment, but when the next vacancy from a commissioner who was leaving his term happened, "my name was just sort of floating out there."
"They were looking for someone who is a little bit independent and not associated with any industry," he said.
He became one of seven FCC commissioners at a time when they were considering some key issues that still reverberate today.
"It took me about six months or more before I had a good idea of what was going on," Robinson said.
At the time the FCC was issuing decisions about introducing competition into long-distance telephone markets. In the mass-media area, cable television, which had previously been constrained by regulations imposed in the 1960s, was emerging as a major player. Robinson had helped craft anti-cable rules as a privately practicing attorney years before but now "worked hard to get rid of them — with limited success."
During his term the FCC considered one of the most infamous complaints it would take up: whether airing George Carlin's "Filthy Words" monologue, broadcast by a radio station on a weekday afternoon in 1973, was illegal.
In response, the FCC issued an opinion declaring that it had the power to regulate indecent broadcasting, but only noted the incident in case future violations happened at the station. The radio station's owners challenged the opinion, and the case eventually made its way to the Supreme Court as FCC v. Pacifica Foundation, where justices affirmed the FCC's right to regulate offensive content.
In recent years the FCC has become more active in pursuing indecency cases, a tactic Robinson called a "sham," particularly because the FCC has declined to regulate indecency via ubiquitous subscription services such as cable television.
"The whole thing is ridiculous," Robinson said. "It turns out that it was one of the decisions that I repented the most. I really regretted my involvement in the original decision."
In 2006 Robinson drafted amicus briefs for CBS v. FCC and Fox Television Stations et al  v. FCC, cases in which the media challenged FCC rulings on indecency (more). Fox won its case in a federal appeals court, and the Supreme Court will hear it this fall. The CBS case is still pending in the 3rd U.S. Circuit Court of Appeals.
Although Robinson said the FCC should back off indecency cases, he said it still has a significant role to play in some areas. The FCC should have rules to enable competitive players to enter the telecommunications industry and should improve its auction system for radio frequencies, he said.
"If it was up to me I think the FCC could probably be cut to half its size if it was just doing what it needs to do," he said. "They certainly could curtail a lot of their activities."
Robinson chose to leave the FCC for Virginia after he finished the final two years of his predecessor's term. His teaching load was initially light because of his commitment to the Aspen Institute, an international nonprofit organization. He also chaired the World Administrative Radio Conference, for which he led a 120-person U.S. team at a meeting designed to allocate international frequencies for uses ranging from satellites to airborne radar.
Although he taught administrative law, torts, antitrust, property and even evidence and criminal law, he didn't teach his first communications law course until 1996.
"There wasn't a big demand for it, actually, partly because it's perceived to be highly specialized," he said. "There weren't any books on the subject."
Property, while not one of Robinson's beloved subjects as a student, remains one of his favorite courses to teach. "Students to this day hate it," Robinson said. But, "it really is quite wonderful in many respects — sort of like doing Sudoko puzzles."
Law Professor Liz Magill took Robinson's property course in 1993. "He's very intellectually challenging as a teacher," she said. "Very early in the class he gets the students to the hardest central question."
As a colleague, "he's been gracious and welcome and wonderful. He's very smart and knowledgeable; he has an interesting mind and take on things."
Kristen Nugent '08 took three classes from Robinson. "He has a very dry, witty sense of humor," she said. "It was neat to have someone who had been through it all teaching what had gone down."
Robinson said he's better at interacting with students one on one.
"I've always liked teaching, though I think teaching never liked me," he said. Teaching "focuses your mind. It gives you an opportunity to explain something to yourself and that's part of the learning process."
In 2003 Robinson was appointed the David and Mary Harrison Distinguished Professor of Law, the highest honor the Law School bestows upon faculty.
"He is one of the foremost administrative law experts in the country," Dean John Jeffries said during Robinson's retirement ceremony. "His curiosity leads him to focus on puzzles in the law — puzzles that sometimes lie within one particular field, but that often do not."
While Robinson has written more than 40 articles on wide-ranging topics and books on everything from the U.S. Forest Service to a casebook on administrative law that has gone through four editions, his latest labor of love is the communications law casebook.
Nachbar said he and Robinson have been hammering out the book since they decided they wanted their own material for the communications law class they have co-taught for the past two years. Nachbar praised Robinson's role as a mentor.
"He is the ideal colleague in every way," Nachbar said. "He's everything that UVA says that it is to junior faculty."
Robinson has no specific plans for retirement, other than spending time with his two children and three grandsons in New York and wife, Kay, a local Realtor. He wouldn't rule out teaching or co-teaching a course at the Law School in the future.
"Or maybe I'll take up golf again," he mused.
Founded in 1819, the University of Virginia School of Law is the second-oldest continuously operating law school in the nation. Consistently ranked among the top law schools, Virginia is a world-renowned training ground for distinguished lawyers and public servants, instilling in them a commitment to leadership, integrity and community service.