Law School Launches Innocence Clinic
The murderer had worn a dark hooded sweatshirt. So during the trial when prosecutors showed an eyewitness a photo lineup of six men and asked if any was the perpetrator, they took care to conceal any trace of clothing in the photographs.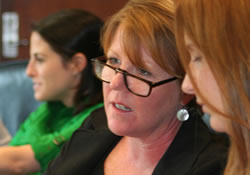 But the witness had already seen the photos during an earlier interview with police. In that photo, the defendant was "The only person you can see clearly wearing the dark hooded sweatshirt in the line-up," said Jen Goodlatte, a third-year student participating in the Innocence Project at the University of Virginia School of Law.
Goodlatte's recent discovery is the kind of revelation students in the clinic hope to use to exonerate innocent people convicted in Virginia, many of whom are victims of poor lawyering or discredited police techniques.
Launched in June, the clinic is part of the Innocence Network, an international affiliation of organizations dedicated to overturning wrongful convictions. The Innocence Project, a national organization started by lawyers Barry Scheck and Peter Neufeld, is a founding member of the network.
"The Innocence Project at UVA School of Law will bring critical expertise and resources to investigating wrongful conviction cases," Neufeld said. "We know that innocent people are convicted and spend years or decades in prison in Virginia, and this clinic will help exonerate more of them."
Led by Deirdre Enright, a 1992 Law School graduate and experienced capital post-conviction lawyer, the clinic includes 12 students each year and will soon employ a full-time investigator to help collect evidence for appeals.
Unlike the Innocence Project, the Virginia clinic will consider cases without DNA evidence. Many of the Virginia clinic's cases are referred from the Innocence Project and the Mid-Atlantic Innocence Project.
"This is sort of the dream class if you're a law student because it involves great issues for research that are topical — DNA, new techniques in DNA, new testing, eyewitness ID, jailhouse informants, poor lawyering, poor prosecuting — it's all these great cutting-edge issues," Enright said.
Enright represented death-penalty inmates in Mississippi and Richmond, Va., before starting the Virginia Capital Resource Center's office in Charlottesville with her husband, Capital Post-Conviction Clinic instructor Rob Lee. As a practicing lawyer, Enright may be best known for representing Darrell Rice, who was accused of a pair of murders in Shenandoah National Park and also, briefly, of being the Route 29 stalker. He was indicted in the national park murders but the charges were dismissed.
Students in the six-credit clinic, many of whom have experience with innocence cases, are each examining a potential case and the clinic will eventually focus on a select few. Over the year students will interview prison inmates and ex-inmates and help gather evidence to make a case for exoneration.
Third-year law student James Cass researched cases in which DNA evidence cleared inmates last year for Law School Professor Brandon Garrett, which triggered his interest in the clinic.
"I wanted to do what I could to get involved so we could get innocent people out of prison," he said.
Just weeks into the course, Cass has already met with a man who served an 18-year sentence for allegedly raping two women in the Danville, Va., area. Two other suspects in the case were neither located nor questioned, and Cass said questionable witness testimony prompted the prosecutor to offer a plea bargain during the trial.
The deal sounded good to the defendant, who faced a maximum of two life sentences if convicted. Now out of prison, the man doesn't want to be required to register as a sex offender because it makes it difficult for him to find or keep a job.
"It was good to put a face to a name and be able to see he has been mistreated," Cass said. "Now we know what we're fighting for."
During the interview, the students realized the man's uncle had interrupted the perpetrators at the scene of the crime. In their single meeting before the trial, the defendant's attorney had not told him the name of the witness or the location of the crime. He also didn't know his attorney could have had DNA evidence analyzed.
Students have been dismayed to learn of the lack of support for court-appointed attorneys. Though there are now public defenders' offices in some larger cities in Virginia, court-appointed attorneys are still paid only $390 per felony if it carries a possible sentence of 20 years or more. There is no cap on death penalty cases.
"Even after we raised our fees for cases we still remain among the lowest-paid criminal defense lawyers in the United States," Enright said.
Third-year law student Dennis Barrett recalled reading a trial transcript from one of the cases the clinic students are considering.
"I kept reading through the court transcript thinking there's got to be something more, and then it just ends. How has this guy been in prison for 15 years based on one shady witness?" Barrett said. "If the general public saw some of the facts behind these cases they would just be aghast."
Eyewitness misidentification has been a factor in more than 75 percent of wrongful convictions overturned with DNA testing, according to the Innocence Project.
"Eyewitnesses are really unreliable, particularly if they are frightened at the time of the event and when they're making their identification," Enright said. "And yet they're the most believable to jurors."
Enright knows all students in the course won't become criminal defense attorneys overnight, but "I hope they'll learn to go to their law firms and take these kinds of cases. I hope that's their first lesson," she said, adding that maybe some will catch the bug.
Enright herself decided to become a lawyer after working with a law firm in Washington, D.C., on a death row case in which her efforts helped exonerate a Texas inmate.  
"He had been strapped to the gurney twice before that, and I just thought it was a life-altering experience, and I made the unfortunate promise during it that I would go to law school if we got him released.
"You're representing people who you are certain at the end are innocent of what they did and I can't think of anything more motivating for a law student or for me," Enright said.
Second-year law student Amy Pentz said she's already realized the need to pay attention to how law affects real people.
"It's important for everybody who's going into the law to realize that the legal system at times fails people, and it's our job to use our skills to uphold its integrity," she said.
Founded in 1819, the University of Virginia School of Law is the second-oldest continuously operating law school in the nation. Consistently ranked among the top law schools, Virginia is a world-renowned training ground for distinguished lawyers and public servants, instilling in them a commitment to leadership, integrity and community service.