Above the Law Founder: In Tough Times, Choose First Firm Job Carefully
Law students have reason to be concerned about the economy, but should be able to weather the storm if they thoroughly research the firms that offer them jobs, said David Lat, the influential blogger who launched Above the Law and Underneath Their Robes.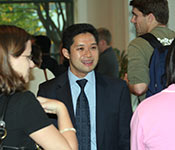 Lat, who kept a packed Caplin Pavilion laughing as he described his own career and the concerns of many lawyers today, spoke Wednesday at the Law School during a Student Legal Forum event.
After spending more than two years with elite law firm Wachtel, Lipton, Rosen & Katz, Lat was working for a U.S. Attorney's Office in Newark, N.J., in 2004 when he started Underneath Their Robes, a news and gossip blog about the federal judiciary. "Back then there were fewer blogs out there and it was a more novel idea," Lat said. "I was just obsessed with the Supreme Court and the lower courts."
Lat posted under the pseudonym Article III Groupie, posing as a woman working for a law firm on the West Coast. "I kind of got really into the persona," he said. "I knew more about shoes than my mother did."
When he realized his identity had become apparent to some friends and threatened to leak more broadly, he decided to go public with legal reporter Jeffrey Toobin.
"It did turn out to be a little bit of an issue at my day job," he said. Ultimately the Justice Department said he could keep his job if he quit blogging, but "I missed the creative outlet."
So he moved to Washington, D.C., to lead the already-established blog Wonkette, before eventually conceiving of the idea for Above the Law, a legal gossip blog that has grown to 4 million hits a month. In August, Lat was promoted to run the parent company's blog division.
Lat encouraged first-year law students to consider jobs working for the government, public interest groups, professors or judges this summer rather than for a firm. Then in the following summer, when the economy could be better, they would be in a better position to get a full-time offer.
"It's much easier to get a firm job as a 2L," he said.
Lat warned students to research their job options carefully, or "you could be out of a job in a year or two."
"Ask tough questions after you have the offer," he said. "Once you have that offer in hand, then you can kick the tires."
Still, law students are much better off than M.B.A.s, he said. "We're like cockroaches. We survive anything."
He encouraged students to consider jobs off the beaten path, from the Justice Department to markets outside of major cities, to mid-size firms that likely didn't over-extend the way large firms have.
Some gossip on Above the Law suggested stronger firms may choose to increase starting salaries now in order to build a competitive advantage, but Lat dismissed the idea as unlikely.
"Everyone thought at this time we would be at [a starting salary of $190,000]," he said. "Bonuses are actually where the women will be separated from the girls, the men from the boys."
Lat, who attended the No. 1 ranked undergraduate school and law school, urged students to look beyond trying to always be the best, a lesson he learned when shelving his legal career for one in the blogging industry.
"Look beyond the rankings, both in law and in life," he said.
Founded in 1819, the University of Virginia School of Law is the second-oldest continuously operating law school in the nation. Consistently ranked among the top law schools, Virginia is a world-renowned training ground for distinguished lawyers and public servants, instilling in them a commitment to leadership, integrity and community service.