Retired Generals Condemn Use of Torture
At a Law School forum Thursday, two retired three-star generals voiced outrage over the use of torture in Afghanistan and Iraq and called for national leadership to address the issue.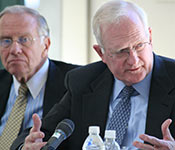 Lt. Gen. Harry E. Soyster, former director of the Defense Intelligence Agency, and Lt. Gen Charles Otstott, former deputy chairman of the NATO Committee, dismissed torture as an ineffective technique that undermines the United States' image and values.
"It doesn't matter what they do, it's what we do. We don't lower ourselves to the level of this terrible enemy we are fighting. It's about what our standards are," Soyster told an audience in Caplin Pavilion.
The two are part of a group of retired generals and admirals fighting for the adoption of prisoner treatment standards consistent with international law in the wake of abusive detainee treatment in Iraq, Afghanistan and elsewhere. Torture is prohibited under the Geneva Convention and the U.N. Convention Against Torture. The Bush administration has penned several memos to tweak the definition and application of interrogation and detention methods, citing the different kind of enemy it faces in the war on terrorism.
But the generals said the definition of torture was based on the timeless "golden rule" of treating others as you wish to be treated.
"The rules are the same, and should be the same. All the Machiavellian work that has been done to get around those rules is detestable, and I can't believe we are doing that as an official policy in the United States of America," Otstott said.
Both men said intelligence from torture is unreliable since detainees were prepared to say almost anything under agonizing conditions. They also warned against justifying a national policy based on the few times it worked rather than the principle behind it.  
"I would not sit here and tell you that torture has not caused somebody to provide information. But what we're talking about is policy at the highest level. You don't make policy based on the exception, you make policy based on the norm that you expect," Soyster said.
Soyster also stressed the importance of training interrogators to extract intelligence from detainees legally using the standards set out in the U.S Army Field Manual. He recounted a story about his friend, skilled army interrogator Stuart Harrington, who was interrogating a high-level Al-Qaeda detainee. Soyster said Harrington identified a key weakness the suspect had for his sister's safety and manipulated it to gain information.
"That's what a good interrogator is able to do. You get a lot of good results by using good interrogation and getting into the mind of the guy you are trying to get information from," Soyster added.
The two military leaders also emphasized the need for good leadership at the top in order to provide better guidance for troops. Both said the next president, as commander in chief, should be wary of rattling political slogans such as "I will do anything to defend this country," as they may translate to unlawful excesses on the ground.
As an example of good leadership, Otstott quoted May 10, 2007, letter by Gen. David Petraeus, the commanding general of the Multi-National Force in Iraq. The letter read: "Some may argue that we would be more effective if we sanctioned torture or other expedient methods to obtain information from the enemy. They would be wrong. Beyond the basic fact that such actions are illegal, history shows that they are also frequently neither useful nor necessary."
Otstott said that this was "exactly the kind of guidance that I would want to have if I was a commander ... I can look at this and I can say: 'That's my marching orders right there. I can live with that.'"
Soyster and Otstott's group of about 40 retired generals and admirals was organized by Human Rights First, a nonprofit international human rights organization that strives to advance universal rights and freedoms. The group has traveled around the country to universities, editorial boards, Congress and even both political party national conventions to meet with presidential candidates, with the goal of educating the public.
"Where this technique does work is on '24,' once a week or whatever," Soyster said, referring to the award-winning drama series on counterterrorism. "We want to get the discussion above that."
The forum was sponsored by the Law School Human Rights Program, the Center for National Security Law, Virginia Law Veterans, the J.B. Moore Society of International Law, the Virginia Journal of International Law and Human Rights First. Law School Professor Barbara E. Armacost moderated the discussion.
Founded in 1819, the University of Virginia School of Law is the second-oldest continuously operating law school in the nation. Consistently ranked among the top law schools, Virginia is a world-renowned training ground for distinguished lawyers and public servants, instilling in them a commitment to leadership, integrity and community service.