Former NPR Executive Says State of American Journalism Is Not Sound
American journalism is reeling as the industry struggles to find a workable business model for the 21st century, a former National Public Radio executive told a crowd of Law School students and faculty Tuesday.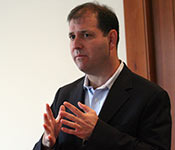 "I have to report to you that the state of American journalism is terrible," media consultant Ken Stern said in a packed Stone Dining Room. "We are in probably the most difficult and challenging time for American journalism in this country's history."
During the second Outside the Box Lunch, a lecture series featuring law school graduates who have taken career paths outside of law, Stern — a top NPR executive from 1999 until earlier this year — assessed the factors that contributed to journalism's current state and discussed its future.
His definition of journalism excluded the talking heads and commentators seen on cable television and elsewhere.
"I'm talking about the industry of people, the reporters and editors who have been the heart and soul of American journalism for a couple of centuries: those who go out in the field and report and come back and try to provide the most balanced and straightforward news," Stern said.
In recent years, changes in technology and the failure of the traditional newspaper business model has led to a "free fall" in the industry, he said.
At the beginning of the decade, there were about 50,000 working journalists in the country, and most were employed by newspapers, Stern said. Today, that number stands at around 35,000. By the end of the decade, it could fall to around 30,000.
"That's a real collapse, and that comes from what has happened in the American newspaper industry," Stern said.  
He attributed newspaper industry's atrophy to two factors. The first is that many people simply don't read newspapers anymore. About 55 percent of Americans at the beginning of the decade read a daily paper; today, that figure has fallen to 45 percent, he said. The statistics are even worse with young readers. At the beginning of the decade, about 45 percent of young people read a paper. Now, that number is down to 30 percent.
"All of them have gone to the Internet," he said.
The second element hurting the newspaper industry is that many advertisers have fled to other media.
"The heart and soul of newspaper economics used to be the classified ads, or the job ad," Stern said, recalling an experience he had 10 years ago putting up a house for rent in the Washington, D.C., area.
"We had only one thought in mind: put an ad in the Washington Post. Today we would have only one thought in mind: put an ad on Craigslist."
These factors have led to declining circulation at 23 of the country's top 25 newspapers, Stern said. It has also contributed to a downward spiral in which reduced circulation and revenue leads to reduced newsroom resources, which leads to weaker content, which leads to reduced circulation and revenue.
"There used to be about 25 newspapers that had significant bureaus overseas. There are now two," he said, adding that the loss of the international perspective supplied by overseas reporting could have negative effects on the country.
However, the industry is not all doom and gloom. The failure of the traditional business models and the declining circulation of community newspapers leaves a ripe opportunity for innovation, Stern said.
Ironically, the content produced by working journalists right now is often seen and heard by many more people than ever before.
"The New York Times has about 900,000 readers for the print edition. But it has about 15 million for its online edition. So there's much more usage, but these organization and companies don't have the ability to make money off their online services the same way they did for their print edition."
Stern sees four possibilities for the future course of journalism. "No one knows, it could be all of them, it could be some of them, it could be some combination of them," he said.
One possibility is that existing mainstream news organizations will successfully rethink themselves and their business models. He cited the Christian Science Monitor, a daily newspaper that recently made the decision to end its print edition and go online.
"That has challenged their revenue side, but it has a lot of advantages on the expense side," he said. "They may be the forerunner of news organizations that are rethinking themselves in the digital age."
He also cited the emergence of news outlets such as Politico, which have grown up in the digital era and are not holdovers from a previous century.
The second possibility Stern cited is that journalism will be recast as a nonprofit industry.
"I of course come from this tiny little segment of the industry, not-for-profit journalism at NPR. But in an age in which advertising dollars don't seem to support the business of journalism, can journalism rethink itself as a not-for-profit enterprise?"
He pointed to a new generation of start-up nonprofit news outlets such as Web sites in San Diego and Minneapolis which are funded by donations. The decline of community newspapers could make such businesses a viable model for local news, he said.
A third future course could be that as professional journalism declines, normal people or "citizen journalists" could use social media and "Web 2.0" tools such as blogs and Wikipedia to fill in the information gaps.
"Does the audience at city council meetings become the reporters of the future?" Stern asked.
He said the recent presidential election showed how this type of reporting can have an impact. A citizen journalist for the Huffington Post blog reported on then-candidate Barack Obama remarking that some working-class voters cling to guns and religion out of bitterness at their economic plight. 
The blog posting caught the attention of the national press and the remark became a campaign issue, Stern said. The same blogger later captured former President Bill Clinton disparaging the author of a critical piece in Vanity Fair magazine.
"There is the question of whether the journalism corps, the reporter corps, is now 35,000 reporters, or is it hundreds of thousands of people who have an interest in the news and what's going on."
A final possibility is what Stern called a return to the roots of American journalism: shameless partisan pandering. He pointed out that most papers started out as the "house organs" of political parties, and that the notion of objective fact-based journalism was an invention of the 20th century. "And we may see its death in the 21st century," he said.
"We've begun to see little echoes, as political parties and interest groups no longer see themselves as having to work through intermediaries, or the newspapers, or radio stations or the broadcasters, but actually have direct avenues to the public."
For nearly a year, the Obama campaign had the biggest broadcast megaphone in the country, Stern said. Though that sprawling media organization was used to get a candidate elected, it's only a small step to imagine that political organizations and interest groups could groups to begin to think of themselves as the direct sources of news and information, he said.
"That is actually a return to the real roots of American journalism, and I think we will end up debating as a country whether that is the right way to think about the future of journalism."
Founded in 1819, the University of Virginia School of Law is the second-oldest continuously operating law school in the nation. Consistently ranked among the top law schools, Virginia is a world-renowned training ground for distinguished lawyers and public servants, instilling in them a commitment to leadership, integrity and community service.