Justice Persistently Delayed in Lebanon, Professor Says
Justice remains elusive in Lebanon three years after the assassination of Prime Minister Rafik Hariri, said former Lebanese presidential candidate and current visiting law professor Chibli Mallat on Friday.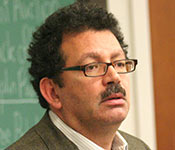 "This is a case of justice so long delayed that one wonders whether it is going to be denied," said Mallat, who is Presidential Professor of Law at the University of Utah and EU Jean Monnet Chair in European Law at St. Joseph's University in Lebanon.
Hariri's assassination on Feb. 15, 2005, ignited a historic wave of demonstrations in Lebanon calling for an end to the Syrian military occupation. A U.N. investigation launched afterward remains in progress today.
Because the Lebanese judiciary was unable to deal with such a politically charged issue, Mallat said he initially requested the establishment of an international tribunal as opposed to a commission. 
"As a lawyer I had no other response but to have some sort of effective justice to be established. And such effective justice could not happen without an international forum," Mallat said.
But the U.N. decided to adopt a commission first, following the model of Yugoslavia, where a commission had been established to investigate whether the scope of the crimes was massive enough to warrant a tribunal. 
Despite this, Mallat said, the U.N. reports in 2005 produced strong but not compelling evidence that implicated Syria in Hariri's assassination, including threats that Hariri received from Syrian President Bashar al-Assad to support the extension of Lebanese President Emil Lahoud's term.
"It was a very clear confirmation that there would be a very strong motivation for the assassination to have come from Syrian circles," he said.
Mallat added that Syrian officials had repeatedly hindered the U.N. probe by producing false and inaccurate statements and failing to arrest and produce the alleged perpetrators of the assassination.
"The investigation's findings made it clear that the Syrian government was not cooperating; indeed, it was obstructing justice," he said.
The influence of the U.N. probe also waned after 2005 as it was plagued by abrupt transitions. Much to Mallat's dismay, effective U.N. commissioner Detlev Mellis was replaced by more muffled successors. 
"Substantially, there was absolutely nothing. After December 2005, it was all downhill, and it continues to be downhill," he added.
While Mallat acknowledged the importance of the U.N.'s support for a special tribunal for Lebanon in June 2007, the process of establishing the tribunal itself was fraught with delays.
"Until now, the judges have not been appointed. The last news we got of the tribunal was that a registrar was appointed last week," he said.
Mallat is best known for winning the case of Victims of Sabra and Shatila v. Ariel Sharon et. al in Belgium in 2003, which involved the massacre of hundreds to thousands of Palestinian refugees by a Lebanese Forces militia group with alleged Israeli involvement. He is the author of more than 25 books in Arabic, French and English and is a frequent lecturer at U.S. universities.
The event was sponsored by the John Bassett Moore Society of International Law.
Founded in 1819, the University of Virginia School of Law is the second-oldest continuously operating law school in the nation. Consistently ranked among the top law schools, Virginia is a world-renowned training ground for distinguished lawyers and public servants, instilling in them a commitment to leadership, integrity and community service.