U.S. Could Better Promote Green Building, Panelists Say
Environmentally friendly and energy efficient "green" building practices have caught on remarkably in recent years, but both the government and the private sector could do more to promote such construction, a panel of experts said Friday during a symposium at the Law School.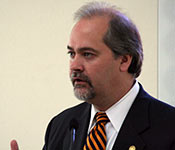 "It's not a fad that's going to go away. I don't think anyone is going to ask for less efficient building in five years," said Doug Lowe of Artisan Construction during a panel discussion on green building in today's environment.
The discussion — which featured representatives from government, the building community and elsewhere — was part of the Virginia Environmental Law Journal symposium, "Defining Green Building, Emerging Standards at the Intersection Between Sustainable Development and the Law."
L. Preston Bryant Jr., Virginia's secretary of natural resources, outlined the ways the state has promoted green building practices and other environmental initiatives. He cited an executive order from Gov. Timothy J. Kaine, the creation of both the first-ever state energy plan and of a commission on climate change, and a new emphasis on environmentally friendly state spending.
The executive order "has a number of 'thou shalts,'" Bryant said. It requires that all state buildings bigger than 5,000 square feet meet Leadership in Energy and Environmental Design (LEED) standards, a certification awarded by the U.S. Green Building Council. It also required that state equipment meet the Energy Star rating system for electrical efficiency and created a senior advisor for energy policy.
The state energy plan, which the state legislature approved in 2006, looked 10 years ahead and set goals for alternative energy use. Residential use of energy doubled over a 45-year period, and Virginia is currently 24th nationally in energy use per capita, Bryant said.
"I think we're in a fairly good place. It could be worse; it could be better," he said.
The climate change commission, of which Bryant is a member, is "very much an exercise in diplomacy," as it includes members of varying backgrounds and ideologies, he said.
But though skeptics could question what impact Virginia has on the global issue of climate change, Bryant said the state produces a significant amount: Virginia, combined with North and South Carolina, emit roughly the same amount of green house gasses as South Korea, a major industrialized nation, he said.
Bryant also pointed to new state programs that provide incentives for local governments to meet environmental standards in their own construction projects.
"There's clearly an urgent need to move to green building policies," said Trip Pollard, a senior attorney with the Southern Environmental Law Center.
Pollard said there has been explosion of interest in green building practices in recent years as technology has advanced to make such building easier, but said the advances are still "a drop in the bucket." Only about 10 percent of new building projects are done to green building standards, he said.
In addition, a flaw in ratings systems such as LEED is that they do not take into account location. Many supposedly green buildings are constructed in out-of-the-way places that provide no access to public transportation, he said, forcing the people who work or live there to drive every day. 
"These buildings are only green if you focus on the buildings themselves," he said, adding that transportation accounts for about 30 percent of greenhouse gas emissions.
Pollard also said there is a severe lack of federal policies encouraging green building, though he said that is likely to improve under the next president, regardless of who wins the election. Still, making significant strides will also require incentives such as tax breaks for green building, he said.
"We'll never get to where we need to go by regulation alone," Pollard said, adding that the government should do away with subsidies that promote sprawl and that transportation spending should be spread beyond the automobile.
Melissa Gallagher-Rogers of the U.S. Green Building Council, the entity that created the LEED standard, said applications for the certification are growing at a brisk pace.
"Green building is a voluntary standard, and it's just been going through the roof," Gallagher-Rogers said.
There are 31,366 buildings certified or registered to be certified, she said, including 1,162 school buildings and 1,998 higher-education buildings.
Though that's still a relatively small percentage of the number of total buildings constructed, she said the USGBC wants to maintain the forward momentum.
Doug Lowe, the president of Artisan Construction, which specializes in environmentally friendly building, said the success of his business has less to do with his business acumen than with the public's rising desire for green building.
Builders can make a better structure "by simply taking advantage of some low-tech things like properly orientating a building so it gets the sunlight," he said.
Lowe, a Crozet resident who owns the first home east of the Mississippi to attain LEED certification, said the area community is very interested in green building.
His own home is designed to capture rain water runoff from the roof, which is then distilled and used as drinking water, he said. Though such an elaborate process is "not for everyone," he said it shed light on how tricky such innovation could be.
When he was constructing the home, Lowe struggled to make sure that he was not running afoul of water regulations or other rules by recycling the storm runoff. The experience left him convinced that the maze of building rules and regulations could be simplified to promote green building practices, which he said typically only cost up to 2 percent more than traditional building practices.
"Green building should not be complicated," he said.
Founded in 1819, the University of Virginia School of Law is the second-oldest continuously operating law school in the nation. Consistently ranked among the top law schools, Virginia is a world-renowned training ground for distinguished lawyers and public servants, instilling in them a commitment to leadership, integrity and community service.