11th Annual Library Art Show Brings Discarded Books to Life
The Law School Library's 11th annual art show, "State Papers," which officially opened Thursday, features an array of artwork focused on bringing discarded books from the library back to life.
"State Papers" is the product of a yearlong effort by Library Director Taylor Fitchett and curator L. Michelle Geiger, an artist at the nonprofit McGuffey Art Center in Charlottesville. They wanted to illustrate how artists can use their unique styles to transform the unwanted books from the Law School library into creative works. The exhibit is displayed throughout the second floor of the library.
As curator, Geiger selected the featured artists, which included Denise Carbone, Rosamond Casey, Daniel Essig, Law School professor Brandon Garrett, Melissa P. Hackman, Andrew Hayes, Jennie Hinchliff, Lindsey Mears, Carrie Ann Plank and Geiger herself. The nine artists were asked to reinvent the book material.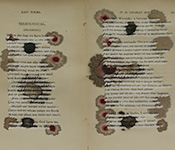 "I gave each of the artists a part of the subject matter and told them that they had free reign to represent it in any form. I was familiar with their work and was confident they would produce great results," Geiger said.
The exhibit showcases myriad techniques and art forms using paint, paper, ink blots, water color, silk screens, thread, wood and acrylic. Denise Carbone's "Te loe log ical (fragments)" consists of pages littered with ink blots and white scribbles, while Geiger's "Ambition" shows a large, painted bird soaring in the background of maps and book pages.
The show will be on display until June 1 next year. Prices range from $250 to $5,500, and interested buyers should contact Taylor Fitchett.
Founded in 1819, the University of Virginia School of Law is the second-oldest continuously operating law school in the nation. Consistently ranked among the top law schools, Virginia is a world-renowned training ground for distinguished lawyers and public servants, instilling in them a commitment to leadership, integrity and community service.