Law School Improves Caplin Pavilion, Special Collections, Adds Faculty Offices
The Law School is putting the final touches on a series of construction projects carried out over the summer to meet the changing needs of faculty, the library and students.
The school added a hallway of 15 new faculty offices to the third floor of Withers-Brown Hall to accommodate its growing number of teachers. The new corridor, previously part of the library, now connects to other faculty office space on the southeast side of the building.
The space remaining on the library's third floor was redesigned to house an expanded Special Collections department, which now includes a reading room.
"In the early 1990s, we planned an expansion that would give us 70 faculty offices, which seemed like enough to accommodate any amount of growth. At last count we now need 83, and that number continues to go up," said Bill Bergen, assistant dean for administrative services, who oversaw the construction. The Law School also needed space for more short-term and visiting faculty who require offices during their stay, as well as University faculty who teach at the Law School part-time in addition to their duties on main Grounds.
The school is now wrapping up changes to Caplin Pavilion, which include a new sound and projection system, refinished floors and optional shades over the windows to allow for better viewing conditions for multimedia presentations.
"The renovation was necessary because the use of that room changed from what we anticipated. It's become much more popular for lectures than any of us thought possible," Bergen said.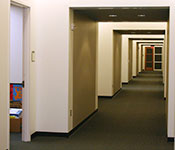 The school also completed the first stage of a multi-year classroom renovation and carpet installation project. This summer the carpet in Withers-Brown Hall classrooms, parts of the Library and several hallways was replaced.
Founded in 1819, the University of Virginia School of Law is the second-oldest continuously operating law school in the nation. Consistently ranked among the top law schools, Virginia is a world-renowned training ground for distinguished lawyers and public servants, instilling in them a commitment to leadership, integrity and community service.