Six Dillard Scholars Join the Class of 2011
Six members of the incoming class of 2011 were chosen from among the brightest applicant pool in Law School history to receive Hardy Cross Dillard scholarships. Named in honor of the school's fourth and most famous dean, a 1927 graduate and retired judge of the International Court of Justice, the Dillard Scholarship provides full tuition to recipients.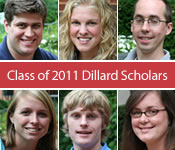 Each year the Law School provides about six exceptional applicants with the scholarship. Tony Pilaro '60 started the scholarship in 1985 to pull in top talent to Virginia from around the country. The goal was to offer a scholarship so generous that recipients would not have to worry about debt while working on a law degree. Alumni support continues to fund the scholarship.
Professor Dan Ortiz, who has administered the scholarship for the past five years, said he enjoys getting to know these dazzling scholars.
"It's great to meet these people," he said. "They are the best and brightest of the applicants we have."
Ortiz has the task of making the final cut from a pool recommend by the Admissions Office. Taking into account objective factors such as academic achievement, Ortiz must also consider subjective traits such as leadership ability, extracurricular activities or how the applicant will contribute in and out of the classroom.
"Dillard Scholars truly 'seed' the entering class with incredibly bright and motivated students," said Jason Wu Trujillo '01. Trujillo, senior assistant dean for admissions and financial aid, is impressed not only by what the students accomplish in the classroom, but what they go on to do in their careers. "I still remember the Dillard Scholars from my class. They were exceptional students then, and their subsequent careers have been equally exceptional."
Over 80 students have received the Dillard Scholarship since its inception; four of them are now on the Law School faculty. Jim Ryan '92, Ruth Payne '02, Micah Schwartzman '05 and Leslie Kendrick '06 have returned to serve their alma mater.
"The Dillard Scholarship cemented my decision to attend UVA Law School, and that decision has been the most significant of my life," Ryan said. "I met my wife, Katie, who was a fellow law student, I grew incredibly fond of Charlottesville, and I met professors - ok, one professor - who encouraged me to consider law teaching. It's not an exaggeration to say that I owe a great deal of my personal and professional happiness, which are abundant, to having been a law student at UVA."
Meet this year's Dillard Scholarship recipients:
Katie Mitchell
Hometown: Birmingham, Ala.
College: Auburn University
Major: Dual degree - B.S.B.A. in international business and B.A. in French
Notable work experience: During college I interned at an insurance brokerage in London. I also spent a year teaching English at a high school in Lyon, France. After graduating from Auburn, I spent two years as a consultant for KPMG out of Atlanta. As a part of that company's Financial Risk Management practice, I had the opportunity to work on a variety of projects both domestically and in Europe.
Why law? My interest in law grew out of a more general interest in culture. Through my studies and my experiences both at home and abroad, I came to recognize the relationship between societies' laws and their cultures. I am fascinated by the many ways a people's laws and their culture influence each other as each evolve.
Why UVA Law? I was attracted to both the school and the city of Charlottesville for numerous reasons which I can best summarize by saying that UVA Law seemed like the best fit for me. I wanted an excellent legal education, but it was important to me that I enjoy my time in law school rather than merely "survive" it. My brief experience here has been extremely rewarding and has left me with no doubt that UVA Law will live up to all of my expectations.
What would you like to do with your law degree? I became very interested in international trade law while studying international business as an undergraduate. Specifically, I was impressed by the impact international trade agreements have on private citizens. I hope to gain a position which will allow me to participate in the creation and enforcement of international trade agreements so that I may work to ensure that the economic benefits resulting from these agreements are not gained at the expense of individuals in member nations.
Peggy Nicholson
Hometown: Statesville, N.C.
College: University of North Carolina at Chapel Hill
Major: Political science and African studies
Notable work experience: I was a Carolina Scholar and participant in the Honors program at the University of North Carolina at Chapel Hill. I graduated with highest honors after completing an honors thesis during my senior year. I also participated in a study abroad program in Cape Town, South Africa, where I worked as a research intern conducting research on immigration policy issues for the Idasa Democracy Center. After graduation, I worked for several months with the New York Legal Assistance Group as an AmeriCorps VISTA.
Why law? I have always wanted to work in the public interest world and getting my law degree seems like the best way for me to put my own abilities to use for the public interest.
Why UVA Law? The priorities of UVA Law appeared to align with what I wanted to get out of my legal education. There's an atmosphere at UVA that encourages a healthy balance of work, experience and play. I believe that balance is essential to becoming a well-rounded lawyer and person.
What would you like to do with your law degree? I would like to practice public interest law in some form, possibly as an attorney for a legal aid organization or another non-profit.
Adam Wanee
Hometown: Indianapolis, Ind.
College: Wheaton College (Illinois)
Major: Business/economics
Notable work experience: I worked as a law clerk for Kathleen Zellner, a prominent litigator in Oak Brook, Ill., who does work in civil rights, medical malpractice and criminal appeals. I was also a summer intern in the legal department at Great American Financial Resources Inc. in Cincinnati, Ohio. I was the radio and TV play-by-play broadcaster for Wheaton football and basketball.
Why law? I was fascinated by the law from a very young age. As I matured, I developed an appreciation for its usefulness in bringing order to society and enjoyed pondering the philosophical issues that have shaped its evolution and guide its application. When it came time for me to decide how I wanted to continue my education, I could not think of a more exciting opportunity than three years studying the law and the lifetime of legal work I hope will follow.
Why UVA law? I honestly believe that UVA is the best all-around law school in the country. There are many factors that contribute to this, including its location, prestige and the career opportunities it provides, but I believe it is the people at UVA Law who make it truly special. The professors, in addition to being brilliant in their fields, seemed more excited about their work and eager to interact with students than at any other place I visited. The staff members were all friendly and seemed genuinely passionate about helping students. Finally, the students I came in contact with all took a real interest in welcoming me into the community, and it was obvious that they loved being a part of it and wanted me to have the same experience. I wanted law school to be a place where I could enjoy learning and do it in an environment that was more collegial than competitive, while also being able to enjoy life outside of school. That's exactly what I found at UVA Law.
What would you like to do with your law degree? I am currently most interested in doing work in corporate transactional law and securities law.
Amy Strang
Hometown: Cleveland, Ohio
College: Ohio University
Major: English pre-law and philosophy pre-law
Notable work experience: Legal/public policy intern for the National Whistleblower Center and Kohn, Kohn and Colapinto in Washington, D.C.; legal intern for Adam Baker & Associates Attorney at Law in Athens, Ohio; president of Ohio University Chapter of Phi Alpha Delta Pre-law fraternity; assistant director of Ohio University Students Defending Students
Why law? I love the intellectual challenges of the law, and flexing the logical and analytical reasoning skills required to work out problems.
Why UVA Law? Charlottesville seemed like the perfect environment to pursue a law degree - with collegial classmates, supportive faculty and staff, and beautiful scenery.
What would you like to do with your law degree? I am not sure yet, but probably a clerkship at first, and possibly teaching later on down the road.
Joseph Caissie
Hometown: Brimfield, Mass.
College: Amherst College
Major: Economics and chemistry
Notable work experience: Research assistant at the Federal Trade Commission, tutored SAT/high school
Why law? Originally I was interested in an econ Ph.D., and it became less interesting to me as I started to see exactly how abstract and academic the field would be. Law can be a more applied version of economics.
Why UVA Law? I've recently become acquainted with the idea that I will not be living forever, and three years seemed like a high percentage of my remaining time on this planet to close my eyes, hold my nose and get my law degree. UVA combines everything I could want in terms of prestige and quality of education with beautiful surroundings and - according to everyone here - decent people.
What would you like to do with your law degree? I'm open to anything. I'm very interested in law and economics or natural resource law, and I could imagine working for an energy company, hopefully doing something that uses my knowledge of science and economics. On the other hand, wherever I go, I've always been interested in the more abstract/theoretical aspects, so my career might take a more academic bent.
Andy Muzic
Hometown: Minneapolis/St. Paul, Minn.
College: University of Minnesota
Major: Accounting and finance
Notable work experience: Worked four years in the e-discovery department of Dorsey & Whitney, LLP.
Why law? I've had an abiding interest in law ever since I was young.
Why UVA Law? Virginia offers a blend of academic rigor and collegiality that is unmatched among law schools. Additionally, the faculty is of great accomplishment and esteem; I feel privileged to be able to study under them.
What would you like to do with your law degree? I hope to work in a public service capacity.
Founded in 1819, the University of Virginia School of Law is the second-oldest continuously operating law school in the nation. Consistently ranked among the top law schools, Virginia is a world-renowned training ground for distinguished lawyers and public servants, instilling in them a commitment to leadership, integrity and community service.