Symposium to Examine "Green Building" Schedule:
A group of experts from academia, government and the private sector will meet at the Law School on Friday to explore the relationship between government regulation and environmentally friendly building practices and provide an overview of the meaning of "green building."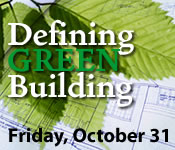 The symposium, "Defining Green Building: Emerging Standards at the Intersection Between Sustainable Development and the Law," will begin at 10 a.m. in Caplin Pavilion and is sponsored by the Virginia Environmental Law Journal. Professor Jonathan Z. Cannon will moderate.
During the event, which includes two panel discussions and a chance for open discussion, panelists - including environmental law experts, developers and regulators - will explore the way green building laws and regulations intersect with the current structure of environmental regulation, discuss how governments are beginning to use green building regulations, and recommend ways in which new policies should address green building issues.
For parking information, e-mail Paul Levin at pclevin@virginia.edu
10:05-10:15 a.m.
Introduction to the Panels
Professor Jonathan Z. Cannon, Moderator
10:15 - 11:15 a.m.
Panel I: Green Building in the Literature
J.B. Ruhl, William Buzbee and Phoebe Crisman
11:15 - 11:25 a.m.
Break
11:25 a.m. - 12:25 p.m.
Panel II: GreenB uilding inT oday'sE nvironment
L. Preston Bryant Jr., Trip Pollard, Melissa Gallagher-Rogers and Doug Lowe
12:25 - 12:35 p.m.
Break
12:35 - 1:30 p.m.
Open Discussion
Panelists available for questions and comments
Founded in 1819, the University of Virginia School of Law is the second-oldest continuously operating law school in the nation. Consistently ranked among the top law schools, Virginia is a world-renowned training ground for distinguished lawyers and public servants, instilling in them a commitment to leadership, integrity and community service.