Students Get Involved in Election
As Election Day draws closer, Law School students from both sides of the aisle are entering the political fray, making phone calls, canvassing neighborhoods and planning get-out-the-vote efforts across the area and state.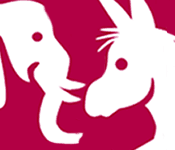 "I think that we as law students are naturally more in tune with the election," said third-year law student Miles Sasser, president of the Virginia Law Republicans. "But I think generally, young people don't participate in the political process, and I think it's important to try and get them to and to get them to pay attention to the issues."
Both the Virginia Law Democrats and the Law Republicans are planning increased activity as the election approaches, whether through "phone banking" - the process of calling potential voters to encourage turnout or promote a candidate - or other volunteer activities such as door-to-door canvassing.
The Law Republicans are working with the Albemarle County Republicans to provide volunteers to help with phone banking. "That's calling registered Republicans or other people and asking if they are supporting their candidates," Sasser said.
With the election coming up, Sasser said there are about 30 active Law Republican volunteers, an increase over previous years. Third-year law student Chris Dumler, president of the Virginia Law Democrats, said his organization has also seen an increase in active membership this year, and now has about 40 active members.
"Most of the work we're doing has been field-oriented," Dumler said. "We've been doing canvasses every Saturday. We do phone banking out of the office with surprising frequency."
Other students are getting involved without advocating for a candidate. Groups such as the Black Law Student Association are planning nonpartisan voter outreach programs.
Some Virginia BLSA members are working with the Lawyers Committee for Civil Rights Under Law, and will spend Election Day traveling the state to promote voter participation in areas that have seen voter disenfranchisement in past elections, said third-year law student Dana Weekes.
In addition to providing a public service, students on the trip may have a potential learning experience. They are prepared to help disenfranchised voters seek a remedy through the courts, Weekes said.
"We'll be assisting attorneys if any litigation is necessary," she said.
In addition, BLSA members will go to area high schools to talk about the voting process and encourage eligible young people to vote, Weekes said.
The Law Republicans have also been working with Karin Agness, a third-year law student who is the local coordinator for Law Students for McCain.
Agness, who founded the conservative women's group Network of Enlightened Women and writes a regular column at townhall.com, traveled to Minnesota with the delegation from her home state of Indiana for the Republican National Convention in September.
"It's hard to know what to expect from a convention. You see parts of it on TV, but it's difficult to really explain the atmosphere there," Agness said. "You're there with a lot of other very enthusiastic, politically interested people, all in one place. There was a lot of excitement all throughout the convention."
Being on the floor of the convention for Alaska Gov. Sarah Palin's address was a highlight of the trip, Agness said.
"The energy was just overwhelming. From the moment she took the floor to the end of her speech, there was just a lot of joy in the room."
Since Agness founded NeW as an undergraduate at the University of Virginia, the group has spread to campuses across the country, and includes a chapter at the Law School. Though NeW doesn't endorse candidates or participate directly in political campaigns, Agness said the convention was especially edifying because it was a chance to meet with like-minded students.
"It showed that this isn't just a small group of women at UVA, but that there are a lot of us across the country," she said.
The election has also resulted in more media coverage for NeW. The morning after Palin's speech, Agness was up bright and early to do an interview on CNN's American Morning. She also did several radio interviews at the convention.
"A lot of the feminists came out really hard against Gov. Palin, so I think a lot of radio hosts were looking for a young woman on the other side. My background with NeW made me someone they were interested to speak to."
Second-year law student John Loesel, a self-described "big-time Democrat," spent the summer doing a fellowship with the Barack Obama campaign, volunteering between 30 and 50 hours each week.
"I was registering voters and doing phone banking," Loesel said. "The key focus for my role was to build a network of supporters who would then in turn bring in more supporters."
Each day, he'd drive an hour to Harrisonburg and campaign for Obama by making phone calls and going door-to-door. Though the majority of Shenandoah Valley voters traditionally lean Republican, Loesel said he found a surprising amount of enthusiasm for Obama.
"We'd go door to door to people we knew were supporters and they'd say 'We think we're the only Democrats in Harrisonburg,' and we could say 'No, you're not.' It was really a process of bringing people out of the woodwork and telling them that it's OK to be a Democrat in the area."
As the campaign winds down, many Law School students will be increasingly involved. Agness said she plans to be part of the 72-hour campaign, a large get-out-the-vote push just before the election.
It's the same for many Democrats. "In the days before the election, we switch to the get-out-the-vote phase," Dumler said.
For both parties, that means working from voter lists and calling people deemed likely to vote for their candidate to make sure they vote.
Sasser said he plans to spend Election Day outside a polling place, handing out sample ballots and urging people to vote Republican.
Volunteers from both parties will also monitor the polling places to see how many people are voting on Election Day. If turnout at a particular location seems lower than usual, they start calling area voters deemed likely to vote for their candidate.
"We're in the heat of the battle right now for the election, and you never know what's going to happen," Agness said.
Founded in 1819, the University of Virginia School of Law is the second-oldest continuously operating law school in the nation. Consistently ranked among the top law schools, Virginia is a world-renowned training ground for distinguished lawyers and public servants, instilling in them a commitment to leadership, integrity and community service.