Professor: Students Should Take "Forks in the Road" on Law Exams
Law school exams are different from undergraduate exams because they focus on exploring ambiguities, not knowing the right answer, said law professor Roger Schechter on Friday at a lunch talk sponsored by the Student Bar Association and Bar/Bri.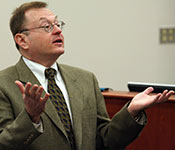 Schechter, the William T. Fryer Research Professor of Law at George Washington University Law School, offered tips to first-year law students on taking "issue-spotting" or "fact-pattern" law exams. In these exams, professors present a complicated hypothetical question and expect students to discuss potential legal outcomes, with the goal that students will reason through different possibilities.
"This is supposed to model something you're going to see in the real world," Schechter said. But "unless you specialize as a practitioner in representing clients who are tripping on acid, they will never have a fact pattern like the ones you will have on a law school exam."
One of the most common mistakes students make on law school exams is spending too much time on the first question, Schechter said. He recommended that students read the last paragraph of the question first, which poses what the professor really wants to know.
"Knowing your role will orient your analysis of the task," he said. Next, read the entire question as a story itself without taking notes.
On the third read, students should start dissecting the question into key facts and issues, which will allow them to track which issues they have addressed as they write answers. Schechter defined issues as pressure points or "the really interesting aspects of the problem that will dictate which way the problem will go."
He cited the book "Getting to Maybe: How to Excel on Law School Exams," for calling these pressure points "forks in the road" because the professor wants you to look at each path. Unlike in undergraduate exams, "your job is not to show off what you know about law," he said. "Your goal is to walk down both forks in the road."
The forks generally explore two alternative legal rules or two policy paradigms that apply to an issue. The conclusion to the question doesn't really matter as much as the exploration of the two paths, he said, although students should make a conclusion about every issue that is raised.
If students think they see a clear answer in a question, they probably haven't spotted the issue. There are no "right answers," he said, but students can pick up clues about what the issue is by realizing every problem is carefully worded by the professor.
"If it says in the problem that someone speaks German, that's probably there for a reason," he said.
Although students are tested on their ability to reason through a hypothetical case, "you have to know the law," Schechter said. Many students do this through creating course outlines, a practice he urged students not to "fetishize."
"It's not about the outline," he said, and urged students to learn information the same way they did as undergraduates.
After students have completed most of their studying, they should create "nested checklists" by writing down 10 to 16 bullet points covering the major topics of the course on one sheet of paper. From there, students should write down three to six bullet points on one sheet of paper for each of the major topics. This helps students recall the information they have studied in a way that will be useful on a fact-pattern test.
Finally, he urged students not to discuss exams with their classmates after the fact. "There is no profit, there is only misery that way."
Founded in 1819, the University of Virginia School of Law is the second-oldest continuously operating law school in the nation. Consistently ranked among the top law schools, Virginia is a world-renowned training ground for distinguished lawyers and public servants, instilling in them a commitment to leadership, integrity and community service.