Wilkinson Addresses Race and Mormonism
Sometimes when other African Americans learn he is a Republican Mormon who now lives in Utah, Winston Wilkinson gets a startled reception.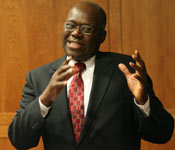 "They look at me and say, 'This brother has lost his way and forgotten who he is.' But I haven't lost my way," Wilkinson said with a smile to a packed classroom Thursday during a talk on race and Mormonism sponsored by the Black Law Students Association and the Rex E. Lee Law Society.
Wilkinson, who was appointed director of the Office of Civil Rights for the U.S. Department of Health and Human Services by President George W. Bush in 2005, outlined a personal history that brought him to the Church of Jesus Christ of Latter-day Saints after periods as a sailor in the U.S. Navy, as a law student and civil rights advocate in the turbulent 1960s and 70s, and five years as a practicing Muslim.
Though he grew up in a part of Prince George's County, Md., that was separated from a neighboring white community by a barbed-wire fence, Wilkinson said he spent his childhood largely oblivious to racial issues.
"My whole life was black then," he said. "We weren't exposed much to the outside world. It was more like a self-contained village."
Things changed in 1962 when he graduated from high school and joined the U.S. Navy. Because of his insulated upbringing, Wilkinson said he didn't initially recognize his first brush with institutionalized racism for what it was.
In 1962, he and some other sailors went to a restaurant in Ocean City, Md., sat down and placed an order. The waitress went to the back of the restaurant, then returned and told them she could fill the order, but that they couldn't eat there.
"I was like 'Well, why?' And then the light came on. It was because I was black," Wilkinson said.
Afterward, he became more aware of the racial issues that were simmering in the South and elsewhere, and started reading about civil rights leaders such as Malcolm X and the Rev. Martin Luther King Jr.
The next year, Wilkinson was among the Navy sailors assigned to a security detail in Washington, D.C., for the now-famous march on the city in which King delivered his "I Have a Dream" speech on the steps of the Lincoln Memorial.
The situation presented a quandary for Wilkinson, who said he recognized that he could be ordered to confront people who were marching in part on his behalf.
The night before the speech, he gathered with about 10 other sailors who were assigned to security.
"We decided quietly that if a riot broke out, we'd just set our weapons down and do nothing," Wilkinson said.
Fortunately, there was no violence, and he wasn't forced to test his oath to serve his country against his desire not to harm civil rights advocates, Wilkinson said.
After the Navy, he became involved with the civil rights movement himself and attended college, graduating in 1971 from Morgan State University.
"I had great parents, who taught me how to live during those times in a dignified manner and to better myself regardless of the circumstances that I confronted," he said.
In 1974, he graduated from Howard University Law School and got married with the hope of starting a family and a professional career. However, he soon found himself at a personal crossroads: Wilkinson's mother died that year, followed in 1975 by his father.
"At that point I started asking myself questions. What is this really all about? How much control do I have over my own destiny? Is there really a God?"
Though raised Methodist, he wasn't finding much spiritual satisfaction. So Wilkinson and his wife began looking for something else.
"We attended the Catholic church, the Lutheran church. But we decided on the Islamic faith. I became a Muslim."
Wilkinson took on an Islamic name, got prayer rug and began praying five times a day. But after five years as a Muslim, Wilkinson said he was still searching for spiritual satisfaction. On a whim, he decided to ask a man in a crowded lobby at a function in Ocean City about his religion.
"Something in me said 'Ask this guy what church he belongs to.' Out of the clear blue. I didn't know who this guy was. So I grabbed him. He was startled, because this was a Republican event and I was the only brother there," Wilkinson said with a smile. "We talked and I found out that he was Mormon. He invited me and my family to come by his home and learn more about his religion."
At that meeting, Wilkinson said many of the philosophical and spiritual questions that had been nagging at him were largely answered. He joined the Mormon Church in 1981, three years after the church lifted its ban on African Americans in the priesthood.
"It was for me. I tell my friends the same thing: It was for me."
Wilkinson said he didn't initially know of the ban, and that by the time he found out about it he was already a firm member of the faith. In retrospect, Wilkinson said he was glad that the issue didn't prevent him from joining.
"I would have been in big spiritual trouble if I let the issue of blacks in the priesthood keep me from this church," he said.
The issue of race and Mormonism still comes up, most recently during Mitt Romney's campaign for president when he was questioned about the church's ban on black members of the priesthood, Wilkinson said.
"Most church members, when confronted with this issue, are ill-prepared and at a loss of what to say about this," Wilkinson said, adding that some members have never experienced racism, and that others fear that discussing racism and inequality may stir up old wounds.
Wilkinson said that from his perspective, it's important to focus on the fact that the church's current position is the correct one.
"I know the church is true. That's where I fall on this. I know it's true because I prayed about it."
"Once I answered those questions, for me, about who I was and where I'm going and how I'm going to get there, I just moved on in life to other challenges. I don't dwell on it. At some point, you've got to move forward, and I know that happened for me."
Founded in 1819, the University of Virginia School of Law is the second-oldest continuously operating law school in the nation. Consistently ranked among the top law schools, Virginia is a world-renowned training ground for distinguished lawyers and public servants, instilling in them a commitment to leadership, integrity and community service.