Remembering Charles H. Whitebread, 1943-2008
In honor of Professor Charles H. Whitebread, a nationally respected law professor, author and lecturer in the law for over 40 years, the Law School will hold "A Remembrance" on Saturday at 4 p.m. in Caplin Pavilion.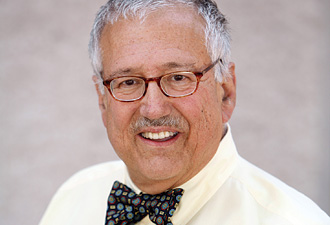 Whitebread, 65, of Santa Monica, Calif., and Charlottesville, passed away from lung cancer Sept. 16 in Santa Monica.
After graduating from Yale Law School, Whitebread joined the faculty at the Law School, where he taught for 13 years through 1981. He was awarded the Distinguished Professor Award in 1972, and again in 1980.
An expert in criminal law and procedure and an astute observer of the U.S. Supreme Court, he published numerous law review articles and more than 10 books dealing with subjects ranging from criminal procedure to the non-medical use of drugs. Beginning in 1982, Whitbread published an annual booklet, "Recent Decisions of the Supreme Court."
Whitebread was also one of the first law professors to concentrate on juvenile law and the need of the juvenile law system to afford the same rights to juveniles accused of offenses as afforded to adults.
As much as he was a scholar of the law, Whitebread was also immensely popular with his students. He took very seriously this aspect of his work, believing that students deserved to have inspiring and interesting classes to help them to gain command over the subject matter. He also dedicated himself to helping students to succeed in law school; he wrote a primer, "The Eight Secrets of Top Exam Performance in Law School," as a measure of that dedication. For most of his career, he was a lecturer for BAR/BRI in criminal law and procedure, and he helped students successfully study for and manage the anxiety associated with their bar exams. He was very committed to disseminating his knowledge of law school protocols and procedures to students, and each fall he visited over 70 law schools to speak to students about exam-taking techniques and general advice about how to succeed in law school.
Whitebread often returned to Charlottesville to visit his friends at the Law School. On one such occasion, to deliver the commencement address to the Class of 2000, he said "A law school will fully succeed only if its students are willing to engage in the dialogue, to be intellectually curious, to be excited by ideas, and genuinely to believe that it is simply better, as a normative matter, to understand than not to understand. What a delight to return to my native soil 20 years later to find just such students at Virginia. My fondest hope is that as the pressures of advancement in the profession mount, none of you will lose either your willingness, indeed eagerness, to be excited by ideas, or lose sight of the ultimate issue of any great law school: the promotion of social justice."
Whitebread is survived by his long-term partner John T. Golden and their good friend Michael S. Kelly, both of Santa Monica, and by his sister, Anne W. Tower, of Fredericksburg, Va., and his brother, Joseph B. Whitebread Jr. of McLean, Va.
The family requests that expressions of sympathy be in the form of contributions to scholarships in the name of Charles H. Whitebread.
For details on Saturday's event, e-mail Teri Johnson at tjohnson@virginia.edu.
Founded in 1819, the University of Virginia School of Law is the second-oldest continuously operating law school in the nation. Consistently ranked among the top law schools, Virginia is a world-renowned training ground for distinguished lawyers and public servants, instilling in them a commitment to leadership, integrity and community service.