Students Contribute to ACLU Lawsuit Seeking Information on Guantanamo Deaths
Two Law School students helped draft a complaint lodged by the American Civil Liberties Union calling for the U.S. government to release records relating to deaths, suicides, and homicide attempts at the Guantanamo Bay detention center. The lawsuit followed a Freedom of Information Act request for the documents.
"The ACLU had been asking for expedited processing and also a fee waiver or a limitation on the fees they can charge," said second-year law student David Plante. "They denied that and wouldn't search for the documents until the ACLU committed to pay the fees."
Since Guantanamo became a prison for holding suspected terrorists in 2002, four detainees have committed suicide, one has died reportedly of natural causes, and 41 have attempted suicide.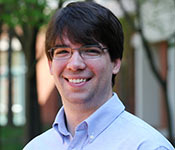 Plante and second-year law student Gabe Walters wrote the initial draft of the lawsuit as an assignment for the International Human Rights Clinic. ACLU attorneys and Deena Hurwitz, director of the Law School's Human Rights Program and International Human Rights Clinic, are listed as the attorneys of record.
"There's an exemption the government is probably going to complain that the materials fall under," Walters said. "If the records are collected for law enforcement purposes and if disclosure is likely to interfere with law enforcement proceedings, then they don't have to disclose them."
But for that exemption to apply, officials must be investigating a crime, such as if the detainees' guards were suspected to be negligent. Since there's no indication of an investigation, "We think we'll be able to argue around that exemption," Walters said.
"We just don't know what has gone on at Guantanamo - that's the purpose of the complaint, that's the purpose of the FOIA request," Walters said. "Guantanamo has not only been a legal black hole by design, but it's been a factual black hole."
The case will be heard by the U.S. Court of Appeals for the District of Columbia at a date to be determined.
Founded in 1819, the University of Virginia School of Law is the second-oldest continuously operating law school in the nation. Consistently ranked among the top law schools, Virginia is a world-renowned training ground for distinguished lawyers and public servants, instilling in them a commitment to leadership, integrity and community service.