Bookman '06 to Clerk for Justice Ginsburg
After years of studying foreign languages and feeding her interest for international affairs, Pamela Bookman's travels will lead her to a spot coveted by any law student: a clerkship with the U.S. Supreme Court.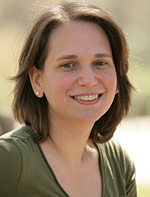 A 2006 Virginia Law graduate, Bookman was recently offered a position clerking for Justice Ruth Bader Ginsburg beginning in summer 2009.
"It's still pretty unreal," said Bookman, who said she is still adjusting to fact that she will be working for Ginsburg. "She seems like a really, really remarkable person."
After spending last year clerking for Judge Robert Sack on the Second U.S. Circuit Court of Appeals, Bookman is now working at the International Court of Justice in The Hague, also known as the World Court, where she clerks for Judge Thomas Buergenthal and Judge Rosalyn Higgins, the president of the court. Bookman's clerkship is funded through the Orrick International Law Fellowship, a competitive award sponsored by the Law School and law firm Orrick, Herrington & Sutcliffe to graduates clerking at the World Court.
A 2001 graduate of Yale University with an undergraduate degree in Russian literature, Bookman said she has always loved languages and traveling. Even before starting law school, she was interested in international law "even though I didn't know what international law was," she said with a laugh.
Speaking from her apartment in The Hague, Bookman raved about her current home. The Hague plays host to a number of international tribunals which have young law clerks, so the city is full of similarly situated people from all over the world who are interested in international law.
"It's a wonderful community," she said. "There are people here from all over the world who have common interests and yet [we're] all so different because [we're] from so many different places."
While at Virginia, Bookman did pro bono work helping immigrants fill out paperwork to apply for green cards. She also volunteered at local jails helping mostly Spanish-speaking immigrants. Bookman speaks Spanish, Russian, French, and a little Yiddish, although she said that her multilingual European friends "put me to shame." She also served as articles editor for the Virginia Law Review.
Bookman said she was lucky that her law school career was filled with so many wonderful professors and mentors, including Professor Michael Klarman. The Scarsdale, N.Y., native conducted independent research with Klarman on the 1948 murder prosecution of an African-American sharecropper and her family. In his recommendation letter to the Supreme Court, Klarman wrote that Bookman's independent research was one of the best projects he has ever supervised.
"Pamela Bookman is brilliant, incredibly hard-working, a terrific writer, and a delightful young woman," Klarman wrote. "Not only was the final product excellent, but she worked harder, demonstrated better organizational skills, and showed greater initiative and motivation than any student I have ever supervised."
Even though Bookman currently lives thousands of miles away from Washington, D.C., she was still able to arrange an in-person meeting with Ginsburg. Two weeks after receiving an e-mail from Klarman saying that Ginsburg wanted to interview her, Bookman traveled to Washington while visiting her parents during winter break. Bookman chuckled that her interview was her first time ever visiting the Supreme Court. After chatting with Ginsburg about international law, the justice offered her the job on the spot.
"It was thrilling, it was surreal," she said. "I'm still not sure this is real."
In between completing her clerkship this year and beginning work at the court in 2009, Bookman will work for a year at WilmerHale in New York. She is interested in practicing international law, but is also considering a teaching career. With the next three years of her life planned, Bookman is not peering much further into her future. Both she and her proud parents are looking forward to her time at the court.
"They're totally looking forward to Take Your Parents to Work Day," she joked.
Founded in 1819, the University of Virginia School of Law is the second-oldest continuously operating law school in the nation. Consistently ranked among the top law schools, Virginia is a world-renowned training ground for distinguished lawyers and public servants, instilling in them a commitment to leadership, integrity and community service.