Brege '08 Earns Equal Justice Fellowship to Help N.C. Youth
Cary Brege had no intention of pursuing a legal career when she and her husband moved to Charlottesville so he could go to law school, but Brege's commitment to legal justice has now been recognized with one of the most prestigious public service awards available to new attorneys — an Equal Justice Works Fellowship.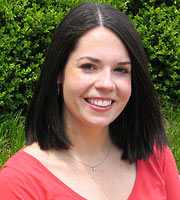 The Equal Justice Works Fellowship Program is the largest postgraduate legal fellowship program in the nation. Each year it places 50 new lawyers in two-year assignments at nonprofit public interest organizations, where they implement projects that address pressing community needs.
Brege, who will graduate from the law school in May, will use her fellowship to work for Advocates for Children's Services, a state-wide program of Legal Aid of North Carolina.
"The goal of my project is to ensure that students receive a sound basic education by protecting and enforcing their rights in school discipline proceedings," Brege said. When she studied the issue last summer, "I was shocked to learn that schools in North Carolina suspend or expel more than 1 out of every 10 students each year — a rate 45 percent higher than the national average."
Due process rights in the education context take on a greater significance in North Carolina, where there is a fundamental constitutional right to a sound basic education, Brege explained. Males, black and American Indian students, ninth graders, and students receiving special education services are all suspended or expelled at a disproportionate rate in the state. Contributing to the problem, North Carolina law does not mandate the provision of educational services or alternative school for students while they are suspended.
Once suspended, "many students have no alternative but to spend time on the streets, leading to higher levels of delinquency and other societal harms," Brege said. "My project recognizes that the timing is right in North Carolina to challenge the lack of educational services during the suspension period as well as the constitutionality of the school discipline statutes."
Brege aims to tackle the problem through representing students in suspension or expulsion hearings and by educating parents, community members, and attorneys about students' rights and effective representation in school discipline hearings. She also hopes to raise awareness among the media about the problem.
"This project will build towards ensuring representation to all qualifying students in school discipline hearings in a single chosen school district," Brege said, to promote the idea that attorneys should be provided to students in such situations. She will also participate in an ongoing project investigating the adequacy of education at alternative schools. "That work will inform my seeking a declaratory judgment that the constitutional right to education in North Carolina requires the provision of an alternative school or educational services for suspended or expelled children."
Brege, a Vanderbilt University graduate, grew up knowing she wanted to work with children, but thought she would do so as a youth minister or teacher. When her husband, Jason Brege '06, started law school in 2003, she took a temp job at the Charlottesville Legal Aid Justice Center.
"That was my first exposure to public interest lawyering and I was captivated," Brege said. "I witnessed firsthand the positive difference that the attorneys make in the lives of children in poverty as they advocate for a group who frequently does not have a voice."
Brege soon decided to attend law school herself, to become a child advocate.
In law school, the Child Advocacy Clinic offered the kind of experience she craved, and alerted her to the problems surrounding school suspension.
"A suspension indicates that something is amiss in that child's life or education," she said. "A suspension serves as an opportunity to intervene and lend my skills and expertise to help get the child back on track before it is too late."
At Virginia, Brege was also involved in the Public Interest Law Association, CARE (Child Advocacy Research and Education), and the Conference on Public Service and the Law. She served as a pro bono student assistant with the Law School's Mortimer Caplin Public Service Center, where she worked closely with Assistant Dean for Pro Bono Kimberly Emery on the Pro Bono Project.
"Upon first meeting Cary when she was temping at the Legal Aid Justice Center, I knew she was someone special — someone with empathy and compassion who cared enough to truly want to make a difference," Emery said. "I am delighted that Cary's public service spirit, which has been nurtured and strengthened during her time at law school, has been recognized and honored with this fellowship."
Brege spent her second summer working for Advocates for Children's Services, who will host her fellowship project. "Although there is no federal fundamental right to education, Advocates for Children's Services is doing a lot of exciting constitutional work in North Carolina based on the state constitution," she said. "The attorneys who work there are tireless, creative and passionate about children's legal rights."
Brege is wrapping up her third year of law school visiting at North Carolina Central School of Law, a historically black law school located in downtown Durham, in order to be closer to her mother, who has cancer. "It's been hard to be away from my friends, classmates, and the Law School, but I have been able to spend more time with Advocates for Children's Services, since it is also located in Durham."
Brege is excited to begin a career she started dreaming about five years ago as a legal aid temp.
"It is a bit unnerving to realize that I have landed what I consider my dream job," she said. "I will get to spend time with some of the most amazing clients you could ever meet, to negotiate with schools and other administrative bodies, and I will also have the unique opportunity to litigate cutting-edge constitutional issues.
"I firmly believe that education is — or should be — the great equalizer in America and that the quality of education a child receives is largely determinative of his or her future. I cannot imagine any greater honor than to use my skills and legal training to fight for such an important right."
Founded in 1819, the University of Virginia School of Law is the second-oldest continuously operating law school in the nation. Consistently ranked among the top law schools, Virginia is a world-renowned training ground for distinguished lawyers and public servants, instilling in them a commitment to leadership, integrity and community service.