Chinese Legal Reform a Work in Progress, Experts Say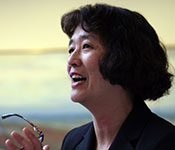 The Chinese legal system is in the midst of significant reforms, but is still plagued by a glut of death penalty cases, inconsistent judicial rulings, and a dearth of qualified criminal defense lawyers, a panel of experts said Thursday at the Law School.
"There is a promise of rule of law in China; it is moving in that direction. But more needs to be done," said Margaret Woo, a professor at Northeastern Law School.
Woo was a panelist for a discussion on public interest law reform, part of the "Justice and Legal Reform in China" conference sponsored by the Law School's Human Rights Program.
The panel, which also included a death penalty expert and a Chinese defense and public interest lawyer, outlined both recent changes to the country's legal system and the significant challenges that remain.
With the world's attention turned to China because of the upcoming Olympics and violent turmoil in Tibet, the conference's subject matter could not be more relevant, according to Professor Paul Mahoney, who spoke before Thursday's discussion.
If China becomes a nation governed by law and respectful of human freedoms, there is a good chance that "the 21st century will witness less human suffering and bloodshed than the 20th," Mahoney said. "The entire world, in that sense, has a stake in China's future."
During the panel, Woo cited recent legal reforms such as the creation of a national bar association and the implementation of judicial standards to screen who sits on the bench.
However, many of the reforms were designed to ensure economic development and to consolidate Community Party power, she said — not to make the legal system a tool of the people.
Inconsistent application of the law and a lack of judicial transparency have contributed to widespread mistrust of the judicial system in a country that has both a tremendous population and a growing sense of social unrest, she said.
"What we need to do is to argue to the Chinese government that the best way of ensuring social stability is through the use of courts, because courts and the law are historic nonviolent channels for resolving social disputes," Woo said.
Chen Yueqin, a Chinese defense lawyer, said reforms are being enacted, but that the process moves slowly.
"Maybe it goes forward three steps and back two steps," Yueqin said.
The lawyer recalled one client who was arrested and charged with murder. Under torture, and before he could consult with a lawyer, he confessed and named numerous accomplices, she said. The man was convicted and sentenced to death.
Yueqin said the prosecution's case was filled with errors and that a Chinese appeals court reversed the conviction and ordered another trial. But the man was again convicted and sentenced to death.
Afterward, the appeals court again struck down the decision and sent it back for retrial. This process repeated itself several times, with the defendant bouncing between convictions and appeals. He and three codefendants are still waiting for justice, she said.
"But five years are gone, and the situation remains. Four innocent young men are still in prison. They are waiting for help, waiting for life and death, waiting for justice," Yueqin said. "I really don't know when they will get justice. But I do know that their wives have all divorced them, their children are growing up, and their parents are getting old."
Yueqin also said the country needs to revisit its death penalty laws, a process that she said is already underway.
Currently, there are 68 crimes that merit the death penalty in China.
"The situation is out of control," Yueqin said.
Robin Maher, a death penalty expert with the American Bar Association who has studied the application of the death penalty in China, agreed.
The country has more death penalty convictions than any other in the world, and hundreds of death row inmates have no legal representation, she said.
"These are not popular people," Maher said. "These are not popular cases."
In addition, many criminal defenders are denied needed training and often are not granted access to their clients. Lawyers are typically appointed about 10 days before the trials begin.
The trials are also considerably shorter than elsewhere, she said.
"The average death penalty case takes between an hour and half a day," Maher said.
Authorities also rely heavily on confessions that are often extorted under duress, and many reforms are not reaching the police, she said.
Still, scrutiny in anticipation of the upcoming Olympics has prompted Chinese officials to revisit the function of the death penalty, Maher said.
One slogan for the new reforms is: "Killing fewer, killing carefully" — a notion Maher said she finds refreshingly straightforward. Other reforms, including increased access and rights for defense lawyers, may also be implemented this summer as part of sweeping legal changes.
"I think these reforms indicate an awareness and an understanding that a competent zealous defense really contributes to the fairness and the accuracy of the proceeding, and ultimately to justice," Maher said
Founded in 1819, the University of Virginia School of Law is the second-oldest continuously operating law school in the nation. Consistently ranked among the top law schools, Virginia is a world-renowned training ground for distinguished lawyers and public servants, instilling in them a commitment to leadership, integrity and community service.