Information for Graduating Students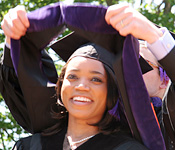 Order your copy of the 2008
graduation on DVD
. The DVD
will be recorded professionally
by a crew with two cameras.
Print Information for Graduating Students
Please Note: All Information below can also be Found in the Graduation Handbook to be Distributed by the Student Bar Association at Cap and Gown Pickup
Class Dues: Please pay your class dues if you have not already done so. The $55 dues cover the expense of the graduation reception, the continental breakfast, hood rental, and other graduation-related expenses. Please make checks payable to "SBA—Graduation Committee."
Alumni Association/Law Foundation/Student Bar Association Reception for the Graduates and Families:Saturday, May 17, 4-7 pm, Law School. Hors d'oeuvres and drinks will be served; this is not a dinner reception. Please make dinner plans accordingly.
Continental Breakfast: Sunday, May 18, 8:00-9:30 am, East Range between Rotunda Alley and Green Alley. Join your fellow classmates for breakfast before marching down the Lawn.
University Graduation Ceremony (good weather): Sunday, May 18, students line up not later than 9:30 am in Rotunda Alley, East Lawn. Ceremony begins at 10 am.
Law School Awards/Diploma Ceremony (good weather):Holcombe Green Lawn, in front of Clay Hall, Sunday, May 18; ceremony begins at 1:15 pm sharp. Immediately following the University ceremony, the new graduates should proceed to McCormick Road (Alderman Library side) to catch a University bus which will first go to University Hall, then to North Grounds (you should stay on the bus at U-Hall). The graduates must be in their seats on Holcombe Green Lawn not later than 1:10 pm.
Bad Weather Plan - University Graduation Ceremony and Law School Awards/Diploma Ceremony:Memorial Gymnasium, Sunday, May 18; Students should be seated by 10:00 am. Ceremony begins at 10:30.
Non-Participants: Please notify Pat Harlowe in the Office of Career Services if you will notbe participating in graduation. We need this information so we will not include you in the program.
Founded in 1819, the University of Virginia School of Law is the second-oldest continuously operating law school in the nation. Consistently ranked among the top law schools, Virginia is a world-renowned training ground for distinguished lawyers and public servants, instilling in them a commitment to leadership, integrity and community service.