Finchem Urges Graduates to Follow Their Passions Graduation Award Recipients
Members of the Class of 2008 should be passionate about what they do in life, PGA Tour Commissioner Timothy W. Finchem '73 said during commencement Sunday in Memorial Gymnasium. Normally held on the Law School's Holcombe Green Lawn, the ceremony moved indoors due to inclement weather.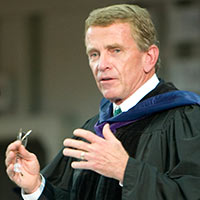 "You have, as a class and as individuals, great capability. You have the tools. Given the focus that I've already noticed you have on philanthropy, and the pro bono commitment that you've made during your law school years, I know you have the passion," Finchem said. "You can, and I believe will, make a difference."
In 1994, Finchem became the third commissioner of the PGA Tour. He previously served as an attorney in Virginia Beach and was deputy advisor to President Jimmy Carter in the Office of Economic Affairs in 1978-79.
"Golf, as a game, is challenging," Finchem said. "It teaches you humility; it teaches you the core values of integrity and honesty; it teaches you to set goals. It is a compelling life-long game, and like life, you never stop learning."
Being a lawyer means you have the ability to think, analyze, and discover solutions, which is helpful in every step of your career, Finchem said.
"If you don't have passion for what you do, you cannot maximize what you want to do, you can't reach lofty goals," he said. "If you make a decision and you find that you're not passionate, move on.
"The reason for Tiger Woods' extraordinary success is his passion for the game of golf."
Finchem urged the audience to "seek consensus in decisions that you make, but don't wait for everybody to agree with you."
Also, "don't take yourself too seriously," Finchem said. "If you have an ego, check it at the door."
Finchem said it was important to have a good attitude, pointing to golfer Gary Player, who is known for being "irrepressibly positive." When Player was asked about a course that was panned by everyone in the field, he said, "I think it is the finest golf course of its type that I've seen."
Recalling that energy policy was a leading issue even when he served in the Carter administration, Finchem urged graduates to become involved in some of the big issues facing the country. Finchem said that PGA Tour tournaments are run by charitable organizations, which "makes us unique in the world of sports." One of the Tour's primary missions is to raise money for charity.
"We are dedicated to generating charitable benefits for the communities where we play," he said. Furthermore, golfers "cherish the opportunity to be role models for children."
It took the PGA Tour 67 years to reach its first billion dollars in charitable giving, Finchem said, and he hopes to reach its second billion in just eight years. He also aims to get children who historically haven't had access to golf, whether for geographic or socioeconomic reasons, to play.
"We want to change the face of golf - we want the sport to look like the rest of the country, and we want to do it in this generation."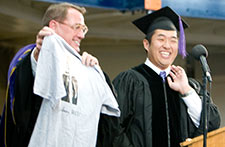 Following Finchem's remarks, 403 J.D. graduates and 38 LL.M. graduates received diplomas from Dean John C. Jeffries Jr., in his final commencement as dean. He will step down in July and return to teaching after a yearlong sabbatical.
"In 32 years I have not seen your equal," said Jeffries, who has taught at the Law School since 1975. "I hope you will not mind accepting me just for today as a member of your class. I am proud to leave in your company."
Outgoing Student Bar Association President Brian Leung presented Jeffries with two gifts - a t-shirt sporting the dean's photo and a framed memento featuring the signatures of graduating students.
"You've demonstrated to us unparalleled passion for the law school," Leung said. "You've shown us that a pocket square is appropriate for all occasions.
"You've been a teacher, a mentor, and an inspiration to us all, and for that we can never thank you enough."
Margaret G. Hyde Award
Katherine Ireland Twomey
James C. Slaughter Honor Award
Ray Daniel McKenzie
Thomas Marshall Miller Prize
Rebecca Lynn Mroz
Z Society Shannon Award
Katherine Ireland Twomey
Law School Alumni Association Best Note Award
Katherine Ireland Twomey
Robert E. Goldsten Award for Distinction in the Classroom
Alicia Nicole Ellington
Roger and Madeleine Traynor Prize
Liam James Montgomery
Kelly Elizabeth Phipps
Herbert Kramer/Herbert Bangel Community Service Award
Elizabeth Carolyn Coe
Mortimer Caplin Public Service Award
Matthew Taylor VanWormer
Edwin S. Cohen Tax Prize
Jordan Kyle Field
Rebecca Solomon Brown
Earle K. Shawe Labor Relations Award
Timothy Francis Kennedy
John M. Olin Prize in Law and Economics
Timothy Francis Kennedy
Eppa Hunton IV Memorial Book Award
Meghan Kathleen Casey
Virginia Trial Lawyers Trial Advocacy Award
Liam James Montgomery
Virginia State Bar Family Law Book Award
Michelle Lee Harris
Matthew Taylor VanWormer
Stephen Pierre Traynor Award
Rebecca Lynn Mroz
Daniel Rosenbloom Award
Donald Burke
Alicia Nicole Ellington
Christopher Michael Hammer
Founded in 1819, the University of Virginia School of Law is the second-oldest continuously operating law school in the nation. Consistently ranked among the top law schools, Virginia is a world-renowned training ground for distinguished lawyers and public servants, instilling in them a commitment to leadership, integrity and community service.