Law and Business Symposium to Focus on Lagging U.S. Markets
Business law experts will gather at the Law School in Caplin Pavilion on Friday, Feb. 15 to explore whether tumbling U.S. stock markets and recent economic distress signal a decline in U.S. capital and competitiveness on the global stage.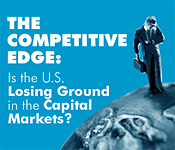 At the symposium, titled "The Competitive Edge: Is the U.S. Losing Ground in the Capital Markets?," leading scholars and attorneys will examine topics on regulatory elasticity and litigation reform, public markets and international financial centers, SEC enforcement, investor protection and promoting capital formation, and the role of U.S. stock exchanges in shaping global competition. The symposium is jointly sponsored by the Virginia Law & Business Review and the Virginia Law and Business Society.
"Even prior to the recent tumultuous market activity, the U.S. faced concerns about its appeal as a market for raising capital, due in part to an increasingly rigid regulatory structure and rising international competition," explained symposium organizer Mia Morgan, a second-year law student. "In recent months across the world, unstable markets have resulted in cancellations and delays of more initial public offerings than have been seen in at least a decade." While the United States still accounts for 41 percent of the Initial Public Offerings market, of those IPOs cancelled in the first month of 2008, half were based in the United States and were expected to raise more than $3.2 billion.
The symposium will conclude with a practitioner panel featuring partners in securities litigation, securities class action and corporate practice at leading law firms. Moderated by Paul Mahoney, David and Mary Harrison Distinguished Professor of Law at Virginia, the panel will examine the competitiveness question from a practical perspective.
Published twice yearly, the Virginia Law & Business Review is a student-run law journal that features scholarship on a range of business law issues.
For more information or to RSVP, please contact Mia Morgan at miamorgan@virginia.edu.
FRIDAY, FEBRUARY 15
All events are in Caplin Pavilion.
8:40 am
Continental Breakfast
9:30 am
Welcome
Mia Morgan, Virginia Law & Business Review
9:40 am
Introduction
Michal Barzuza, University of Virginia School of Law
10:00 am
Adapting to Competitive Pressures: Regulatory Elasticity and Litigation Reform
Donald Langevoort, Georgetown University Law Center
11:00 am
Public Markets and International Financial Centers
Chris Brummer, Vanderbilt University Law School
12:00 pm
Lunch
12:30 pm
Lunchtime Presentation
Looking Inside SEC Enforcement: Overregulation or Overreaction?
Dorothy Heyl ('83), Milbank Tweed Hadley & McCloy; Former Senior SEC Enforcement Attorney
1:00 pm
Striking a Balance: Investor Protection and Promoting Capital Formation
Arthur B. Culvahouse Jr., chair, O'Melveny & Myers LLP; co-chair, Commission on the Regulation of U.S. Capital Markets in the 21st Century
1:50 pm
Shaping Global Competitiveness: The Role of U.S. Stock Exchanges
Regina Mysliwiec ('72), former senior vice president, New York Stock Exchange
2:30 pm
Break
2:45 pm
Practitioner Panel
Thomas J. Friedmann ('91), partner, Dechert LLP
C. Evan Stewart, partner, Zuckerman Spaeder, LLP
Deborah Clark Weintraub, partner, Whatley Drake & Kallas, LLC

Moderator: Paul G. Mahoney, University of Virginia School of Law
Founded in 1819, the University of Virginia School of Law is the second-oldest continuously operating law school in the nation. Consistently ranked among the top law schools, Virginia is a world-renowned training ground for distinguished lawyers and public servants, instilling in them a commitment to leadership, integrity and community service.