Paul G. Mahoney — Scholar, Teacher, and Corporate Law Expert — Named University of Virginia Law School Dean
Paul G. Mahoney, a University of Virginia law professor, has been appointed the 11th dean of the School of Law, UVA President John T. Casteen III announced today.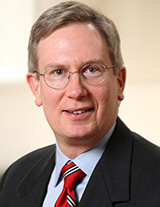 Mahoney, 49, an expert in corporate law who joined the law faculty in 1990, will serve as the Arnold H. Leon Professor of Law. His appointment will be effective July 1.
"Paul Mahoney will join a distinguished line of scholar-deans who have served and led the Law School since its beginnings," Casteen said. "These predecessors and their faculty colleagues have built a culture of excellence in the school. Mr. Mahoney's talents, wisdom, and capacity for visionary leadership assure that one of America's great centers of scholarly excellence will continue to thrive."
Casteen added, "Succeeding the retiring dean, John Jeffries, is not a task for a timid mind or spirit."
As academic associate dean from 1999 to 2004, Mahoney administered the school's curriculum and academic policies. He has won an All-University Outstanding Teaching Award, the Law School's Traynor Award for excellence in research, and the Corporate Practice Commentator's award for top corporate and securities law articles. Mahoney also is one of only five faculty members to hold the most eminent chair at the Law School, the David and Mary Harrison Distinguished Professorship, and the youngest to have the title. Mahoney will be the ninth of 11 deans to be selected from the Law School's faculty; only Monrad G. Paulsen (1968-76) and Thomas H. Jackson (1988-91) were hired from other law schools.
Mahoney's predecessor, John C. Jeffries Jr. — who called Mahoney "a brilliant scholar, a dedicated teacher and a person of impeccable grace and judgment" — launched a $150 million fund-raising campaign, improved student recruitment, and enhanced curricular and public service programs during his tenure. After a yearlong sabbatical, he will return to teach full time in the Law School.
"I am fortunate to follow an extraordinary leader like John Jeffries, who leaves the Law School as financially healthy and well managed as it has ever been," Mahoney said. "Our students, faculty and alumni contribute unparalleled talent and loyalty to our common enterprise, and I am excited to have the chance to work with them."
Mahoney was selected, Casteen said, after a "long and rigorous search conducted by talented colleagues and peers, and ably led by Professor of Law Elizabeth Magill and University Provost Tim Garson. I am satisfied that the process has met every test of integrity and inclusiveness, and it is a pleasure to appoint Paul Mahoney dean."
Dr. Arthur Garson Jr., executive vice president and provost of the University, said he believed that the Law School was fortunate to have attracted the very best candidate from within its own ranks. "Paul Mahoney is a scholar of both theory and practice. I very much look forward to working with him."
A pioneer in the use of empirical methods in legal scholarship, Mahoney has published dozens of articles and monographs in law reviews and peer-reviewed finance and law and economics journals. His teaching and research areas include securities regulation, law and economic development, corporate finance, financial derivatives, and contracts. He is a member of the Council on Foreign Relations and was an associate editor of the Journal of Economic Perspectives from 2004 to 2007 and a director of the American Law and Economics Association from 2002 to 2004.
Mahoney earned his undergraduate degrees in political science and electrical engineering from the Massachusetts Institute of Technology. After graduating from Yale Law School in 1984, he clerked for Judge Ralph K. Winter Jr. of the 2nd U.S. Circuit Court of Appeals and for U.S. Supreme Court Justice Thurgood Marshall. Before joining the University, Mahoney practiced law with the New York law firm Sullivan & Cromwell.
Mahoney has been a visiting professor at the University of Chicago and the University of Southern California law schools and has taught short courses at Dalhousie University, the University of Melbourne, the University of Münster and the University of Toronto. He is a frequent consultant on commercial law matters and has worked on legal reform projects in Kazakhstan, Kyrgyzstan, Mongolia, and Nepal.
Mahoney is married to Julia DeLong Mahoney, who also is a professor of law at Virginia.
Founded in 1819, the University of Virginia School of Law is the second-oldest continuously operating law school in the nation. Consistently ranked among the top law schools, Virginia is a world-renowned training ground for distinguished lawyers and public servants, instilling in them a commitment to leadership, integrity and community service.