Monahan Study: 86 Percent of '90 Grads Satisfied With Life
A glass-half-empty philosophy seems to pay off for law students, Professor John Monahan discovered to his surprise after a study nearly two decades ago.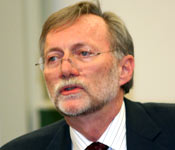 "In law school, it turns out, pessimists do better than optimists," Monahan told a crowd of more than 100 students, faculty, and former students Wednesday. "I ultimately concluded that, in the law, the concept of pessimism might be better termed 'prudence.'"
Now, the same students from the Class of 1990 who sparked Monahan's pessimism revelation are overwhelmingly satisfied with their lives, he said during "UVA Lawyers at Mid-life: How Full the Glass?", a lecture marking his appointment as the John S. Shannon Distinguished Professor of Law.
During the lecture, Monahan presented detailed data based on a survey sent out to the Class of 1990, covering issues such as professional satisfaction, salary, and gender inequality.
Monahan, who has taught social science and the law at the Law School since 1980, noticed early in his career that most students in his first-year classes were eager to participate while most of his third-year students were not.
To try to find out why, he began looking for a model that would predict "which students remain the 'Energizer bunnies' and which students began to blend into the woodwork." To this end, Monahan developed a hypothesis using a theory called "explanatory style," which defines how people explain the causes of negative events to themselves.
The theory divides everyone into two groups. Optimists tell themselves that a problem is caused by outside factors that affect only that problem, and that it will soon pass, Monahan said. Pessimists, on the other hand, "attribute the cause of a problem in their lives to themselves personally, believe that this cause affects not just this problem but many other problems as well, and believe that the cause will likely be around for the duration."
Though many studies show that optimists do better at a variety of endeavors, law students had never been studied, Monahan said.
"I figured that I had found some low-hanging fruit," he said. "I confidently hypothesized that what distinguished those students who continued to be engaged in the classroom during their third year from those who mentally checked out, was 'explanatory style.'"
His study followed the students from their first year in 1987 until graduation. He looked at their grades, how engaged they were in the classroom (as reported by their professors), how they did in moot court, and numerous other factors. Monahan said he couldn't wait to look at the numbers after graduation.
"The good news is that there is indeed a relationship between explanatory style and performance in law school," he said. "The bad news is that the relationship was the exact opposite of the one that I had predicted."
But the idea that pessimists do better in law school makes sense, because part of a lawyer's job is to worry about the possibility of negative events, he said.
"Nobody wants a lawyer to look at a contract and say, 'Relax, what are they going to do if you can't make the payments, foreclose?'"
The study lay dormant for the next 17 years until Monahan and Law School colleague Jody Kraus decided to teach a seminar called "Legal Careers and Life Satisfaction." As he re-read the study's results, Monahan began wondering whether the members of the Class of 1990 were satisfied with their chosen careers and with their lives in general.
To find out, he devised a questionnaire and sent it to the 360 living graduates of the class of 1990. Of those, 260 responded — 155 men and 105 women - for a response rate of 72 percent.
The vast majority responded positively: 86 percent are at least satisfied with their lives, with no significant difference between the genders, Monahan said.
The results showed that 87 percent of the men and 79 percent of the women are currently married or partnered. Of the married female graduates, 77 percent have husbands who work fulltime. Of the married male graduates, 24 percent have wives who work fulltime.
Among men and women with no children, 97 percent were employed fulltime. While that number remained fairly constant for the men, regardless of the number of children they had, it was not the same for women graduates. After one child, 70 percent of women remained employed fulltime. After two children, 66 percent remained employed fulltime. That number falls to 20 percent among women with three children, and none of the women with four or more children remained employed fulltime.
Monahan found that 99 percent of the responding men are currently employed fulltime, as are 61 percent of the women. The median household income for the class of 1990 is now $250,000 per year. The bottom 25 percent of the class has a household income of $150,000 per year or less while the top 25 percent has household income of $450,000 per year or more. Of the 260 responding graduates, 15 have a household income of $1 million or more per year.
As they began their law careers Monahan found that 58 percent of the students started off in large law firms of more than 100 lawyers, 24 percent began in small firms of less than 100 lawyers, and 12 percent found other law jobs in areas such as business, finance, government, and public service.
Though men and women graduates work similar hours in all settings, compensation is considerably different, he said. He showed that of those who were employed fulltime, women make 88 percent of what men make in large firms, 90 percent of what men make in small firms, 75 percent of what men make in government, and 58 percent of what men make in business and financial firms.
Monahan acknowledged the limitations of the study, saying that only one class was studied and that the numbers were not large enough to test for sub-groups other than gender. Still, he was able to draw five conclusions:
• Graduates take many career paths. No single setting accounts for more than a quarter of graduates, and 85 percent of all graduates have changed jobs at least once. Half have changed jobs two or more times. One quarter of those currently working full-time are not working as lawyers at all.
• Gender differences are pervasive. Women graduates are less likely than men to be employed fulltime, which is entirely accounted for by having children at home. Women earn significantly less than men.
• Large law firms could be a problem for many lawyers. While 58 percent start off in large law firms, half leave to go to another type of employer. The half who remain have lower job and life satisfaction than other lawyers.
• Overall job satisfaction is high: 81 percent of graduates are satisfied with the decision to become a lawyer, 85 percent are satisfied with how well the Law School prepared them, and 93 percent are satisfied with how UVA benefitted their careers. There is no significant gender difference with job satisfaction.
• Overall life satisfaction is high: 86 percent of graduates are at least satisfied with their lives, with no significant gender difference, despite differences in average salary.
Founded in 1819, the University of Virginia School of Law is the second-oldest continuously operating law school in the nation. Consistently ranked among the top law schools, Virginia is a world-renowned training ground for distinguished lawyers and public servants, instilling in them a commitment to leadership, integrity and community service.