European Human Rights Court Faces Significant Backlog, Says Roucounas
The European Human Rights Court has seen a massive influx of cases over the past decade, according to an international law expert who spoke at the Law School on March 18.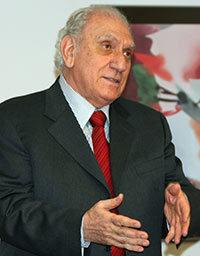 Professor Emmanuel J. Roucounas of the University of Athens described the court as one of the most established international bodies in the world, but said it is in danger of being overwhelmed by its own popularity.
In 1998, when the European Human Rights Commission merged with the European Human Rights Court, there were about 6,000 pending cases, Roucounas said.
Today, that number has grown to 110,000, he said.
The explosion of cases resulted in part because of increased membership in the European Council, a coalition that requires each of its 47 member countries to participate in the court. The council has nearly doubled its membership in the past decade, Roucounas said.
"That means you have 800 million potential applicants before the European court. It is a catastrophe. It is a very difficult situation," Roucounas said.
Also, residents in many central and eastern European countries have begun to understand how to use the court as a means to remedy human rights violations, he said.
Roucounas has worked extensively for the United Nations and other international bodies, and is considered one of the world's top international law experts, according to Professor John Norton Moore, who moderated the event. Roucounas' visit was sponsored by the Onassis Foundation as one of a series of lectures at leading law schools, including at Yale and Berkeley.
Roucounas is also among a group tasked with finding ways to remedy the logjam in the European Human Rights Court. The group's initial suggestion was to have the court function in a fashion similar to the U.S. Supreme Court by hearing only select cases that have larger implications.
"Our suggestion received a very bad response from [nongovernmental organizations]," Roucounas said.
Other possible remedies include disallowing applications by telephone, he said. The European Council is currently considering measures that would streamline the court, but unanimous approval from the member countries is required for passage.
The J.B. Moore Society of International Law sponsored the event.
Founded in 1819, the University of Virginia School of Law is the second-oldest continuously operating law school in the nation. Consistently ranked among the top law schools, Virginia is a world-renowned training ground for distinguished lawyers and public servants, instilling in them a commitment to leadership, integrity and community service.