Schwartzman Argues for Principle of Judicial Sincerity
Judges have a duty to be sincere when making their decisions because it is necessary to ensure that rulings are legitimate, Associate Professor Micah Schwartzman said April 7 during the first in a series of "Meet the Author" lectures sponsored by the Virginia Law Review. Schwartzman discussed his essay "Judicial Sincerity," which will appear in the June edition.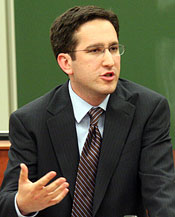 While it may seem obvious that judges should be candid when they hand down decisions, Schwartzman pointed out that the legal literature is full of examples of scholars and judges who argue that sincerity and candor must sometimes be sacrificed "to obtain public compliance with controversial judgments [and] more importantly, to maintain the perceived legitimacy of the court." But pragmatists, he argued, "have obscured the reasons why it's important for judges to give their reasons."
Laying out the necessary steps to establish the "principle of judicial sincerity," Schwartzman first made a distinction between sincerity and candor. "Judges are sincere when they mean what they say, but candor is a more complicated issue," he said.
Schwartzman gave two definitions of candor. Candor as honesty: "Judges are candid when they do not knowingly mislead others about a legal decision." And candor as full transparency: "Judges are candid when they disclose all the information they believe relevant to a legal decision."
To establish what he called "the principle of public legal justification," Schwartzman looked at the role of judges in adjudication and argued that it is not enough that judges have sufficient reasons for their decisions, but that they should give those reasons as well. Doing so improves the decision-making process, he said, and "respects the ability of citizens and litigants to follow the reasons."
"Judges are more likely to give sufficient reasons when they think their reasons are sufficient. Otherwise they're going to be giving you reasons that they don't think are any good," Schwartzman said. "My claim is that judicial sincerity is narrower than what's usually thought to be a requirement of candor."
Founded in 1819, the University of Virginia School of Law is the second-oldest continuously operating law school in the nation. Consistently ranked among the top law schools, Virginia is a world-renowned training ground for distinguished lawyers and public servants, instilling in them a commitment to leadership, integrity and community service.