U.S. Supreme Court Hears Law School Clinic Case
A group of third-year students traveled to Washington, D.C., on Wednesday and watched one of their professors argue a case before the U.S. Supreme Court.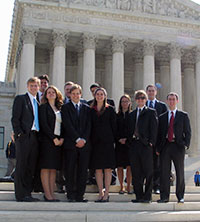 "It was honestly a little bit of a surreal experience," said Winn Allen, one of the students who made the trip.
Allen and 10 of his classmates were more than impartial observers; they were watching the nation's highest court consider Indiana v. Edwards, a case they'd been working on for months.
Each year, students involved in the Law School's Supreme Court Litigation Clinic look for cases that might be good candidates for Supreme Court review. This summer, they discovered the case of an Indiana man who was denied the right to represent himself in court.
Ahmad Edwards was arrested in 1999 and charged with attempted murder and other charges related to a shooting at an Indianapolis department store.
Authorities there initially decided that Edwards was mentally incompetent. He spent several years in mental health facilities before he was judged fit for a trial in 2005.
Edwards wanted to represent himself, but the judge — worried about his ability to do so — appointed an attorney instead. He was convicted and sentenced to 30 years in prison.
A state appeals court later found that Edwards had been denied his right to represent himself and ordered a retrial, a decision that was upheld by the Indiana Supreme Court.
The state attorney general's office, aided by federal authorities, appealed the case to the U.S. Supreme Court.
"One of the students spotted this case and brought it to our attention," said Professor Dan Ortiz, who teaches the clinic with Mark Stancil '99 and David Goldberg.
The clinic contacted Mike Fisher, Edwards' Indianapolis-based defense attorney, who welcomed them aboard.
"At that point the students took it on," Ortiz said. "From the moment they got back [from summer break] it was one of the first things on their plate."
The students researched the case and wrote a brief in opposition, urging the justices to allow the lower court rulings to stand.
"The clinic's position is that if someone is judged competent to stand trial, they have a right to represent themselves in court," said Stancil, who argued the case before the Supreme Court, a first for the clinic, which is now in its second year. (Click here for a transcript of the arguments.)
"The state's position is that defendants could be denied their right to represent themselves at the court's discretion," Stancil said.
But the court agreed to take the issue up, and the clinic students began working on a brief on the merits of the case and helping Stancil prepare for arguments. Of the more than 7,000 petitions seeking hearings each term, the Supreme Court agrees to hear 100 or fewer cases.
Fisher, the Indiana defense lawyer who represented Edwards in the state appeals court, said the students' work on the brief was top-notch.
"It was very well polished when it was done," Fisher said during a telephone interview. "It was as good as any that I've seen, I think."
The process of preparing for the case was rigorous, and required students to sacrifice free time and vacation, Stancil said.
"I had seven of them locked in the library with me over spring break," he said. "So they definitely are fully committed."
Katie Burke was among those students.
"These are real cases, and the goal is to create the best product," she said. "If that requires sacrificing part of a break, it's well worth it."
In preparation for oral arguments, the clinic held several practice hearings, or mootings, including one open to professors and students outside the clinic.
On Wednesday, Allen and a classmate woke up at 3:50 a.m. to travel to Washington, D.C., and rejoin the rest of the clinic students, who left the day before.
The arguments inside the courtroom that day were lively, Allen said, and the justices were engaged and interested in the issue.
"It was a really incredible experience to see the nine Supreme Court justices talking about the same things we'd been talking about back and forth amongst each other for the past few months," he said.
In one instance, Justice Ruth Bader Ginsburg brought up a point the students had outlined in their brief, Allen said.
The Indiana prosecutors had proposed a rule that would allow a judge to evaluate defendants' ability to communicate before deciding whether they could represent themselves at trial.
"[Ginsburg] had said, 'Well, what about someone with a bad speech impediment or someone who can't speak English,' which are examples that we had talked about and put into our brief," Allen said. "In the end I really don't think she agreed with our position, but she thought we made a good point there."
All the justices were vigorous in their questioning, Burke said.
"It was pretty tough, and it was intense at times," she said. "There were a lot of hypotheticals. I think that the justices were really trying to get at, 'What does this look like at trial?'"
Ortiz said the justices will likely deliver a decision by the end of June.
"If they find in our favor, defendants like our client will be able to represent themselves at trial as long as they abide by rules of courtroom procedure and don't disrupt the proceedings," Ortiz said. "If they follow the state's approach, the trial judge will be able to impose an attorney on the person who wants to represent themselves whenever they believe the defendants can't properly communicate."
Allen and Burke said the students involved in the project got a big return on their investment of time and energy.
"I think I've learned a great deal in terms of writing and developing arguments and writing persuasively and being able to think about an entire complex issue and all the things that play into it," Burke said. "But it's also been incredibly fun. I really enjoyed working with the 10 students—€"they were all very dedicated."
Indiana was the second Supreme Court Litigation Clinic case to be heard before the Supreme Court. In December, the court decided Watson v. United States, the case of a Louisiana man who faced firearms charges, in the clinic's favor (more).
The conclusion of arguments for Indiana doesn't give the clinic students any rest, however. After the hearing, they returned to Charlottesville to work on a civil case the Supreme Court has agreed to consider. Arguments in that case, Vaden v. Discover Bank , are scheduled for the fall.
Allen said experiencing the real-life application of the law gave him an educational experience that went far beyond those provided in the usual classroom environment.
"One day [Stancil] said, 'Here's your chance to affect the course of American law.' That's kind of a joke, right? But it's also kind of serious," Allen said. "Who knows, maybe a student throws out an idea in class. It turns out to be a good idea, and it gets incorporated into the brief, then it finds itself into a Supreme Court opinion. You never know."
Founded in 1819, the University of Virginia School of Law is the second-oldest continuously operating law school in the nation. Consistently ranked among the top law schools, Virginia is a world-renowned training ground for distinguished lawyers and public servants, instilling in them a commitment to leadership, integrity and community service.