Psychology Expert to Join Law School Faculty
Barbara A. Spellman, an expert in the field of psychology and the law, will join the University of Virginia Law School faculty in August.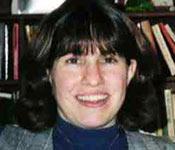 Spellman will hold a joint appointment, teaching half of her courses in the Law School and half in UVA's Department of Psychology, where she has taught since 1997.
At the Law School, she will teach seminars on the intersection of law and psychology, and hopes to also eventually teach courses on psychology in criminal procedure, empirical methods in law, and evidence.
"Barbara Spellman is a leading social and cognitive psychologist, and a lawyer as well," said John Monahan, a professor of psychology and psychiatric medicine at the Law School. "She studies fascinating psychological issues in the law, such as whether jurors can disregard evidence they've heard that is later ruled inadmissible by a judge. The Law School is very lucky to have attracted someone with her remarkable mix of talents."
Spellman first practiced law after graduating from New York University Law School in 1982, but said she didn't initially find it satisfying.
"I always wanted to study how people think and reason and make decisions," she said.
So Spellman returned to school at age 30 and earned a Ph.D. in psychology from the University of California in Los Angeles.
"I thought if I didn't like it, I could always go back to being a lawyer. But it turns out that many areas of psychology that I'm interested in have really interesting applications to law."
Since then, she has taught psychology and law courses and written extensively on the areas where the two fields intersect. In 2006, she was both a visiting associate professor at the University of Minnesota Law School and a visiting scholar in UCLA's psychology department.
But the fields of psychology and the law haven't always existed in harmony, she said.
"I think part of that problem was that psychologists weren't making their research applicable or available to law, and that law wasn't in the frame of mind to listen to empirical research."
However, the areas of intersection between the two fields have grown substantially in recent years, which Spellman said renewed her interest in the law.
"The more I looked around, the more I realized that the things I was interested in had legal applications."
Her current research topics include the study of causal and analogical reasoning and how they apply to the law, which includes questions such as how jurors or judges make decisions or award damages, both at the trial and appellate level.
"We're interested in how individual people deal with all the information presented at a trial and make these types of decisions," she said.
In addition to her Law School duties, Spellman plans to continue teaching an undergraduate course on psychology and the law and supervising graduate students and research projects in the psychology department.
"I don't want to get divorced from the empirical stuff," she said.
Founded in 1819, the University of Virginia School of Law is the second-oldest continuously operating law school in the nation. Consistently ranked among the top law schools, Virginia is a world-renowned training ground for distinguished lawyers and public servants, instilling in them a commitment to leadership, integrity and community service.