Symposium to Explore Information Privacy
The Virginia Journal of Law and Technology (VJoLT) and McGuire Woods are hosting a symposium to address the myriad legal issues that arise when technology and privacy collide. Scheduled for Friday, Feb. 8, in Caplin Auditorium, the conference features scholars from the Wharton School and the University of Ottawa, and an attorney from Proskauer Rose, who will speak on child predator laws and Facebook, the conflict between personal privacy and national security, and data-breach notification law.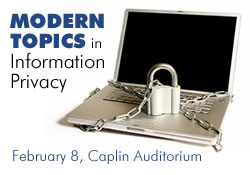 The symposium will conclude with a practitioners' panel featuring Ken Dort, partner at McGuireWoods, Gary Friedlander, vice president and division general counsel at TransUnion, and Andrew Wiederhorn, assistant general counsel at Capital One. The panel will provide an interactive forum for attendees to ask questions of the practitioners about their experiences and allow an opportunity to raise questions that have not been probed in previous sessions throughout the day.
For information on parking and to reserve a free lunch, contact symposium@vjolt.net. An application for approval for this program is pending with the Virginia Mandatory Continuing Legal Education Board.
VJoLT was established in 1996 by students who sought to engage the Law School on issues arising from the intersection of law and technology.
FRIDAY, FEBRUARY 8
8:30-9:00 am
Registration
9:00-10:10 am
The Ecology of Information Security Law
Presenter: Andrea Matwyshyn, Associate Professor of Legal Studies and Business Ethics, Wharton School at the University of Pennsylvania
10:20-11:30 am
Legal Overview: Data Breach Notification, Security and Disposal Laws
Presenter: Tim Tobin, Attorney, Proskauer Rose
11:30 am-12:30 pm
Lunchtime speaker(Caplin Pavilion)
Personal Privacy vs. National Security: Clarifying and Reframing the Trade-Off
Presenter: Jennifer Chandler, Assistant Professor, University of Ottawa
12:45-1:30 pm
Practitioners Panel
Founded in 1819, the University of Virginia School of Law is the second-oldest continuously operating law school in the nation. Consistently ranked among the top law schools, Virginia is a world-renowned training ground for distinguished lawyers and public servants, instilling in them a commitment to leadership, integrity and community service.