Twomey '08 to Clerk for Justice Scalia
Law School graduate Katherine Twomey '08 has accepted a clerkship at the nation's highest court.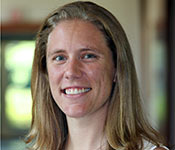 Twomey, who is currently in Charlottesville clerking for Judge J. Harvie Wilkinson III '72 of the 4th U.S. Circuit Court of Appeals, will work for U.S. Supreme Court Justice Antonin Scalia beginning in summer 2009.
"I'm incredibly excited," Twomey said. "Certainly in law school we read a lot of [Scalia's] opinions, and I find them very intellectually appealing. I've also heard that he is wonderful to work for."
She said Scalia's secretary called her in late May, just a few days before graduation, and told her that the justice and former Law School professor wanted to speak with her.
"He came on the line and offered me the job, which I of course immediately accepted," she said.
Twomey, who hails from Vienna, Va., and graduated from Yale University in 2004 with an economics degree, said the application process was similar to other clerkships—she sent the justice a writing sample, a resume, a transcript and letters of recommendation.
She only had a few days to prepare after learning that she had an interview with Scalia and his current clerks, time Twomey said she spent reading as much of Scalia's writing as she could. Though she was "incredibly nervous" the night before the interview, she said she settled down once the process started.
"It's so surreal when you get there. I couldn't believe I was about to meet a Supreme Court justice!'" she said. "But I was much more relaxed once the interview started because Justice Scalia was so nice and we dove right into a legal discussion."
Twomey credited Law School alumni and professors with helping her prepare for the interview.
"Something that really stuck out in the interview process was how supportive the School and the professors were. They put me in touch with some alumni who had clerked for the court, and I can't say enough wonderful things about how helpful they were. I don't think there's any way I would have gotten the job if I hadn't had their advice going into the interview."
Twomey won't be the only Law School alumnae clerking for the Supreme Court; 2006 graduate Pamela Bookman will be clerking for Justice Ruth Bader Ginsburg during the same term.
For most of the next year, Twomey will remain in Charlottesville to complete her clerkship with Wilkinson, an experience she said she is enjoying immensely.
"It's still unbelievable to me. I'm just in my fifth week with Judge Wilkinson and I feel incredibly lucky and honored to have this opportunity for next year," she said.
Founded in 1819, the University of Virginia School of Law is the second-oldest continuously operating law school in the nation. Consistently ranked among the top law schools, Virginia is a world-renowned training ground for distinguished lawyers and public servants, instilling in them a commitment to leadership, integrity and community service.