Former Guantanamo Bay Prosecutor Shares Story
A former Marine Corps prosecutor who refused to prosecute a suspected terrorist held at Guantanamo Bay spoke at the Law School on Tuesday at an event sponsored by the Law Christian Fellowship.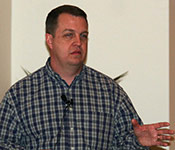 When Lt. Col. V. Stuart Couch joined the Office of Military Commissions in August 2003, Sept. 11 was an issue that all Americans were still coping with, he said. However, the attacks had affected Couch on a more personal level.
Before attending law school, Couch was a pilot in the Marine Corps. Mike Horrocks, a fellow pilot and friend, became a pilot for United Airlines after his service, and was one of the co-pilots of the second plane that struck the World Trade Center.
When he arrived at the Office of Military Commissions, Couch was assigned the case of Mohamedou Ould Slahi, one of two of the 600 detainees at Guantanamo who was believed to have a direct tie to Sept. 11.
At that time, Couch said very little was known about Slahi. He had remained relatively quiet, and most of what information they had had come from Ramzi bin al Sheed, whom Couch called the right-hand man in the planning of Sept. 11.
As Couch was trying to decide the credibility of the information from al Sheed in the fall of 2003, he was notified that Slahi had been put on an interrogation plan known as Special Projects. When Couch tried to find out what exactly Special Projects entailed, he said he met with brick walls. However, the plan started Slahi talking.
"In the fall of 2003, literally overnight, Slahi starts singing like a canary," Couch said. "I could not keep up with the intelligence reports coming out of the guy. He was pushing out five, six intelligence reports a day, which is a lot. And so it's begging the question, 'OK, Special Projects must be working — what's involved in it?' And the response back was, 'Just prosecute the case — you don't have to know what the interrogation plans are about.'"
Couch said, however, that he needed to know more specifics about the interrogation techniques. Under the U.N.'s Convention Against Torture and Other Cruel, Inhuman or Degrading Treatment or Punishment treaty — ratified by the U.S. Senate and signed into domestic law during the Clinton administration — any statement elicited through torture may not be used in any proceedings.
Couch was sharing the case with a criminal investigator who had access to all of the intelligence and information about Slahi. The investigator, who Couch did not name, began secretly slipping him classified information about Slahi and Special Projects.
"When I ultimately made the decision not to prosecute his case, it was based on documents that I had seen that were created by the U.S. government, documents that they intended that I would not see, but my resourceful criminal investigator got them under the table," Couch said.
Couch learned that Slahi was being subjected to what he eventually deemed mental torture. Couch said officials would move Slahi to a different location every few hours, even during the night. This lack of sleep, which Couch said he experienced when he was in the Marine Corps, eventually "starts working on your noodle pretty good."
Couch said officials had also learned that Slahi and his wife had been trying unsuccessfully to have a baby before he had been taken into custody. Officials created a "sex room," in which they forced Slahi to watch videos of women giving birth and breastfeeding babies, he said.
In another instance, Couch said officials took Slahi outside and made him believe he was about to be executed. Later on, an interrogator pretended to be an official from the White House with a letter from the Department of Defense and the State Department that stated Slahi's mother was going to be transported to Guantanamo Bay. The false letter expressed concern that guards would not be adequately able to protect Slahi's mother from the male prisoners, implying that she would be gang raped, Couch said.
"When I was finally holding this false letter, [and] I had this [other] classified information that I can't discuss, and all this other stuff [already mentioned], I got to a point where I said, 'Alright…I have read enough, I have seen enough, I have heard enough, I have had enough, bottom line,'" Couch said.
Couch said he decided to act on his feelings a few weeks later after an experience at church. During a baptism, the preacher, who was reading from a liturgy, asked the congregation if each member promised to seek justice and uphold the dignity of every human being.
"On this Sunday, when I heard that, I could have been the only dude in the church," Couch said. "It was like a thunderclap to the side of the face…I felt at that moment that I was shaken to my innermost being, [and] that this was a bigger issue and I had to do something."
Two days later, Couch told the chief prosecutor that he would no longer work on the Slahi case. Couch said the chief prosecutor "attacked the messenger and not the message," and asked him why he thought he was better than everyone else.
Couch wrote the contents of that conversation into a memorandum that he hoped would be passed along to the General Counsel Office, but nothing came of it.
On the whole, Couch said he did not get in too much trouble for dropping the case. He went on to be the lead prosecutor in the Hamdan v. Rumsfeld case in 2006. After that, he left the Office of Military Commissions to become a senior appellate judge for the Navy-Marine Corps Court of Criminal Appeals, on which he currently serves.
Couch said his decision came down to a question of basic human respect.
"I don't like these guys from al Qaeda," Couch said. "They killed a friend of mine. They killed almost 3,000 of my countrymen in the most horrific manner possible…But the bottom line is this: They are human beings. And when they are in the custody of our country, I believe that they are due a certain level of treatment."
Founded in 1819, the University of Virginia School of Law is the second-oldest continuously operating law school in the nation. Consistently ranked among the top law schools, Virginia is a world-renowned training ground for distinguished lawyers and public servants, instilling in them a commitment to leadership, integrity and community service.