Public Service Offers Fulfilling Career, Morrison Says
Students can make their law careers most meaningful by following a path in public service, public-interest litigator Alan Morrison said Friday during the opening of the 10th Annual Conference on Public Service and the Law.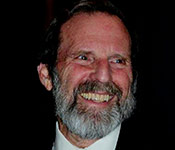 Morrison drew on his experiences as assistant U.S. attorney for the Southern District of New York and with Public Citizen, a consumer advocacy nonprofit he co-founded in 1971, to urge students to consider a career in the public or nonprofit sector.
He acknowledged that immediately taking a job in these areas may be impossible for a debt-ridden law student, but he reminded the audience that people often do not remain at their first jobs for the rest of their lives. The important thing is to keep in mind future goals, he said.
"It's really important to focus your attention not only on what you're doing now but where you're going to be two or three years from now," Morrison said. "You have to say to yourself, 'Look, I can't start where I want to be, but I'm going to give myself a deadline.'"
Morrison, who directs the Public Citizen Litigation Group, said those entering the nonprofit industry have much to look forward to, including a work environment that is full of camaraderie and cooperation instead of cutthroat competition. Fun creeps back into work in this less stressful atmosphere, Morrison said.
"We laughed a lot, we poked fun at the government and at our corporate adversaries and everything else, and people looked forward to going to work," he said. "There's no reason why the word 'work' shouldn't have some fun to it as well."
Morrison, who has argued more than 20 cases in front of the Supreme Court, has also been able to work on a broad range of issues at Public Citizen, from constitutional law to antitrust work. Although nonprofits vary on the specificity of their missions, most allow for what Morrison called "creative lawyering."
Through his work on the regulation of the legal profession, Morrison was forced to think critically and find new applications of the First Amendment, the privileges and immunities clause, and due process in places they had never been applied before.
He emphasized that this creativity can also be found in the public sector, and pointed to the Food and Drug Administration's efforts to regulate tobacco as an example. Instead of viewing cigarettes as tobacco products, the FDA viewed them as a device that delivers nicotine to people. Under the Medical Device Amendment, the FDA can regulate the delivery of drugs to human beings, and therefore can regulate cigarettes. Even though the Supreme Court ended up voting 5-4 that this was the wrong view, it is still an example of the how working on behalf of the public leads to creative lawyering, he said.
Morrison directed students who may not think a career in public service is right for them to his book, "Beyond the Big Law Firm: Profiles of Lawyers Who Want Something More," which profiles 30 lawyers who work outside of the big firm environment. They work in jobs as varied as immigration and small commercial firms, but each lawyer interviewed shares one thing in common.
"What you see in every one of these interviews is how much each of these people likes getting up in the morning and going to work and doing what they were doing," Morrison said.
Even though some students may not initially think public service is the right calling for them, Morrison stressed that students should not discount it.
"I've been extraordinarily lucky in my career, but it's not just me," he said. "Everyone in this room can find similar kinds of opportunities if you keep your eyes open and you're ready to take a chance and to take a step forward from time to time."
Founded in 1819, the University of Virginia School of Law is the second-oldest continuously operating law school in the nation. Consistently ranked among the top law schools, Virginia is a world-renowned training ground for distinguished lawyers and public servants, instilling in them a commitment to leadership, integrity and community service.