Students, Faculty Show Support for Third Annual Diversity Pledge
Law students, faculty and staff are showing their promise to embrace diversity today by wearing T-shirts they received after signing the third annual diversity pledge.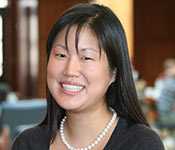 This display of solidarity marks the end of the pledge-signing week, which began Monday outside of Scott Commons, and garnered about 500 signatures so far.
This year's pledge, sponsored by the Student Bar Association Diversity Committee, is meant to give the Law School community a way to show its commitment to diversity and to provide a forum for discussion, committee co-chair Crystal Shin said.
She and co-chair Aaron Friedman added a new element to this year's pledge: a display board on which students could post their thoughts about diversity or share personal stories.
"We wanted to provide more than an opportunity for students to sign a pledge and get a T-shirt, but also have a forum for students to be able to share personal experiences…to make the diverse issues more personal to the [larger] student body," Shin said.
One student who left an anonymous message on the display board said interacting with people from different backgrounds helped broadened his or her horizons. Others discussed instances in which they had been victims of discrimination or their experiences at the Law School as a member of a minority group.
This sort of communication is integral in fostering constructive discussions about diversity, Shin said.
"To encourage a healthy dialogue and vibrant culture at the Law School, I believe it is crucial to provide forums and opportunities for people to discuss issues related to diversity and to learn from one another's experiences," she said.
The pledge itself states that "every person is entitled to respect, regardless of class, color, disability, gender, nationality, race, religion or sexual orientation…We pledge to treat all people with dignity and respect, to discourage others' prejudice in all its forms and to strive to maintain a climate for work and learning based on mutual respect and understanding."
Signees added their own touches to the pledge as well. For second-year law student David Rhinesmith, his signature meant asserting his support of the diverse communities within the Law School and the school's commitment to diversity. Second-year law student Chris Schoen said his signature meant he believes each person has worth.
"I'm affirming that I believe that all people have an inherent value, whether or not you agree with who they are and how they identify themselves, and that they are deserving of respect as people," Schoen said.
Others were impressed with the outpouring of support for the pledge, like second-year law student Pat Barry.
"The holistic participation means more," Barry said. "Having a couple hundred signatures…I think [that] is important."
Even though the pledge was available to the Law School community for only a week, Shin said she hopes the conversation will continue throughout the year.
"For those who never dwell on issues of diversity, the diversity pledge provides an opportunity for them to at least think for a moment about why others are so passionate about this topic," she said. "It is our hope that the diversity pledge will provoke discussion and sharing."
Founded in 1819, the University of Virginia School of Law is the second-oldest continuously operating law school in the nation. Consistently ranked among the top law schools, Virginia is a world-renowned training ground for distinguished lawyers and public servants, instilling in them a commitment to leadership, integrity and community service.