Virginia Chief Justice Explores Free Speech Case
When ruling on free speech cases – even ones involving repugnant actions such as cross burning – it's important to focus on protecting the Constitution, not individual people, the chief justice of the Virginia Supreme Court said at the Law School Friday.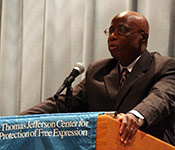 "As Americans, as Virginians, as judges, as lawyers, but most importantly as citizens, we believe very strongly in the First Amendment, and we believe very strongly in the protection of free speech," said Leroy Rountree Hassell Sr., who has served as chief justice since 2002. "We also believe that our nation is made stronger by allowing what is described as the free trade of ideas, even when we find those ideas repugnant, distasteful and even repulsive."
During the 11th Annual Henry J. Abraham Distinguished Lectureship, sponsored by the Thomas Jefferson Center for the Protection of Free Expression, Hassell examined the right to freedom of expression through a Virginia cross burning case that reached the U.S. Supreme Court.
The case, Virginia v. Black, centered on whether the First Amendment guarantee of freedom of expression extended to burning crosses.
Barry Elton Black, a member of the Ku Klux Klan, was arrested in Carroll County in August 1998 after claiming responsibility for burning a cross between 25 and 35 feet tall. The act violated a state statute forbidding the burning of crosses if there is intent to intimidate.
Black was convicted in Carroll County, a decision that was upheld by the Virginia Court of Appeals. Two other men involved in Virginia v. Black, Richard J. Elliott and Jonathan O'Mara, were arrested in May 1998 for burning a cross in a neighbor's yard in Virginia Beach.
Both were found guilty of attempting to burn a cross on the property of another with intent to intimidate, convictions that also held up on initial appeal.
All three men appealed their cases to the Supreme Court of Virginia, which ruled in a 4-3 decision that the statue in question was unconstitutional.
Justice Donald Lemons wrote for the majority, arguing that the "cross-burning statute constituted impermissible government regulation of nonverbal symbolic expression," Hassell said.
Hassell, however, wrote a dissenting opinion that focused on the qualification that the cross-burning must be done with intent to intimidate to violate the statute. For Hassell, this qualification guaranteed freedom of expression while still punishing those who burn crosses with malicious intent.
Another issue raised by the statute was a provision that declared burning a cross was prima facie evidence that the act was done with intent to intimidate, meaning that the act of burning a cross alone is enough to prove it was done with intent to intimidate.
Hassell said a judge or a jury would still have to prove beyond reasonable doubt that the act was done with intent to intimidate.
Prosecutors appealed the case to the U.S. Supreme Court, which ruled, in a complex decision with many concurring and dissenting opinions, that Virginia could indeed make a content-based decision to limit certain forms of expression. A plurality found the specific statute under consideration unconstitutional because of its prima facie provision.
That ruling, "in my humble and respectful opinion, confuses rather than aids the development of First Amendment jurisprudence," Hassell said.
Black's conviction was invalidated, and the Supreme Court returned the cases of O'Mara and Elliott back to the Supreme Court of Virginia, which affirmed their convictions.
Hassell emphasized that when he must rule on decisions concerning free speech, he is protecting the Constitution, not individual people. Keeping that in focus can become difficult, but he said he believes it strengthens the country on the whole.
"As Americans, we have faith that an educated and free populace will disavow hurtful, invective ideas and that our populace will embrace meritorious ideas that promote freedom…By embracing the marketplace of ideas, our nation will become stronger and we as a people will become stronger," he said.
Although constitutional rights are guaranteed, Hassell stressed that education is necessary so citizens know their rights.
"We live in the greatest civilization in the history of the world," he said. "It was not by chance and it was not by luck because I believe not in luck. We have worked hard to develop freedoms and values and constitutional protections…I believe it is very important that we undertake every effort to educate our students and our fellow Americans about the importance not only of the First Amendment but of the importance of our Bill of Rights and the importance of our lawyers and the importance of our judiciary."
Founded in 1819, the University of Virginia School of Law is the second-oldest continuously operating law school in the nation. Consistently ranked among the top law schools, Virginia is a world-renowned training ground for distinguished lawyers and public servants, instilling in them a commitment to leadership, integrity and community service.