Law School to Offer Family Alternative Dispute Resolution Clinic
Starting this fall, the Law School will offer a clinic designed to help low-income families resolve legal issues through mediation or other options outside of a courtroom.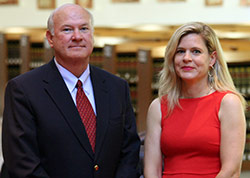 The yearlong Family Alternative Dispute Resolution Clinic, which will accept up to eight students and offer six credits, will focus primarily on custody, divorce, visitation and support issues. The clinic began last fall as a pro bono pilot project funded by a grant from the Jessie Ball duPont Fund.
"The family law pro bono cases are the most difficult to place," said clinic instructor Kimberly Emery, assistant dean for pro bono and public interest. "The need for family law representation is extreme."
The clinic will partner with the Mediation Center of Charlottesville, which takes court-referred cases from the juvenile, domestic relations and circuit courts.
"We expect most of the cases we are going to get are going to deal with child custody and visitation issues, parenting-plan questions, probably child-support calculations and possibly spousal support," said clinic instructor Richard Balnave. The clinic also may tackle some issues in divorce cases. "We can help people in mediation work out a lot of the details of the separation."
Students in the clinic will co-mediate with the Mediation Center's "experienced and certified family mediators," he said.
The clinic will also work with the Central Virginia Legal Aid Society to accept referrals for collaborative law cases, in which clients retain their own lawyer, but in a less-adversarial setting than a typical family law case adjudicated in court. Emery recently designed training for local family law attorneys so they could assist in such cases free of charge.
In addition to a seminar in the fall that trains students to handle such cases, students will receive 20 hours of mediation skills training through a program approved by the Supreme Court of Virginia.
"All year long, students are going to be given opportunities to observe mediations and collaborative practice cases, and to actually participate in those," Balnave said.
"Even for students who are not planning to go on to family law, they've learned the skills," Emery added. "They've also seen how one type of alternative dispute resolution may be better than another." 
Balnave said by the end of the course students will be able to compare options for families in litigation, collaborative law and mediation settings.
"We're going to have people who really want to have an amicable dissolution of the relationship and that's going to be really satisfying for our students to work on — to help people through that difficult time," he said.
With the new clinic, the Law School now offers 19 clinical courses.
Founded in 1819, the University of Virginia School of Law is the second-oldest continuously operating law school in the nation. Consistently ranked among the top law schools, Virginia is a world-renowned training ground for distinguished lawyers and public servants, instilling in them a commitment to leadership, integrity and community service.