Donovan Urges Students to Learn Business Vocabulary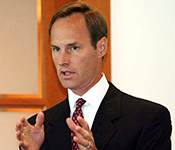 Taking a holistic approach to client services can help those in the financial services industry navigate a changing economy, a Goldman Sachs managing director told students Thursday. (Audio)
Many bankers and lawyers approach their clients with a narrow perspective by offering sporadic support in very specific areas, Jim Donovan said during an Outside the Box Lunch lecture.  
Instead of specializing, Donovan managed his clients' needs, a strategy he said helped him launch his career and advance within Goldman Sachs. If a global firm wanted to expand into Japan, he assembled a cross-border merger team to service the client. If a company needed to raise financing, Donovan put together an equity capital markets team to raise financing for the client.
"If they think of you as their trusted financial advisor, they're going to call you when they need help instead of going piecemeal to different bankers, or different people, or different firms," Donovan said. "It allowed me to box out competition."
By becoming a generalist, Donovan said he was also better able to weather times of economic instability. At any given time, certain areas of finance will prosper as others struggle, he said. As the merger business thrives, the trading business may suffer.
"By practicing as a generalist, you have a much more steady stream of revenue associated with your clients and it helps smooth out the cyclicality of any one product or business offering that you might have," he said. "So, it was selfish, but it allowed me to be one of the largest revenue producers at the firm over the course of my career and it allowed me to predict the revenue I could earn from clients in a much more steady, organized fashion."
Because the investment banks that survived the economic crisis have become extremely averse to risk, Donovan said he sees the focus of his industry changing. In the past, investment banking was the way most banks made money. Now, he said, the focus has turned to trading and asset management.
While trading is volatile, Donovan said success in trading is not tied to the economy. One can make a lot of money in bad economic times, and lose a lot of money when the economy is good. Trading is skill-based, he said, and asset management is stable and similar to annuities.
Donovan encouraged law students to become conversant in the language of business, which can make simple concepts sound complicated and intimidating.
"Business people speak in terms of … 'comparable merger analysis,' 'discounted cash flows,' and unless you've taken classes or spoken in those terms, you can be intimidated by them," he said. "I've seen lawyers who are practicing law day in and day out, case in and case out, shut down and become intimidated in a room where people start throwing around business terms. The fact is, the language of business is simple."
Donovan encouraged students to take classes offered through the Law School's Law and Business program to become conversant in the language of business. Donovan is teaching a short course, Corporate Strategy, in the program.
"My advice to all of you is, don't be intimidated because it's not hard stuff. Professor [George] Geis, Dean [Paul] Mahoney and many of the other faculty members at UVA have done a great job, and I think probably better than any law school in the country, of offering [business-related] classes in the law school," Donovan said. "Don't let anyone [intimidate] you as a lawyer. Whether you're practicing law or going into business, make sure you're conversant in the language of business."
Founded in 1819, the University of Virginia School of Law is the second-oldest continuously operating law school in the nation. Consistently ranked among the top law schools, Virginia is a world-renowned training ground for distinguished lawyers and public servants, instilling in them a commitment to leadership, integrity and community service.