Three Students Receive Dillard, Jefferson Scholarships
Three members of the Class of 2012 have received the Law School's most prestigious scholarships.
Julie Bentz and Matthew Harvey received Hardy Cross Dillard Scholarships, named in honor of the school's fourth dean, a 1927 graduate and retired judge of the International Court of Justice. Jason Pan was named a Jefferson Law Fellow. Jefferson Fellowships are awarded University-wide to recognize leadership, scholarship and citizenship. Both scholarships provide full tuition and a stipend to recipients.
"Julie, Matt and Jason are exceptionally bright people who will contribute to this academic community," said Jason Wu Trujillo '01, senior assistant dean for admissions and financial aid. "They are truly worthy of our most generous scholarships."
The scholars were selected from the largest applicant pool and the most academically qualified class in Law School history. (More)
Meet the scholars: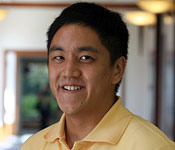 Jason Pan
Jefferson Law Fellow
Hometown:
Vienna, Virginia
Education/degrees: University of Virginia; systems engineering, economics
Notable work experience: Last summer I interned as the legal affairs assistant at the Office of Trade Negotiations, Republic of China, which is the Taiwanese equivalent of the Office of the U.S. Trade Representative. I assisted with bilateral and WTO trade negotiations, which included helping draft correspondence sent to counterpart offices in English-speaking countries, conducting Mandarin to English translations, and reviewing trade documents and writing analysis. I also worked at an IT consulting firm for two summers and studied in China for two summers.
Why law? Lawyers are involved in the design and execution of laws that shape modern life. I believe legal training will enable me to become a more effective advocate and enhance my ability to analyze, argue and communicate. Augmenting my engineering and economics training with a law degree will add a third dimension to my thinking.
Ultimately, I view a legal education as a means to an end. In college, tutoring and community involvement were my twin passions, and from them grew my desire to enter public service as a career. A legal education would enhance my ability to make a deep and wide impact in the public policy arena.
Why Virginia Law? The first thing people notice when they visit the University of Virginia is the quality of life. Students and faculty thoroughly enjoy their lives both inside and outside the classroom. This satisfaction is manifested in the high giving rate by alumni and the fact that, in many families, sibling after sibling choose to attend UVA. 
My family is such an example. Two of my brothers are alumni of Virginia Law, one of whom named his daughter and son Virginia and Jefferson. Currently my younger brother and three cousins are undergrads. Simply put, we are fanatical about Mr. Jefferson's university. I look forward to spending another three years at this beloved institution and can think of no higher distinction than to be a Double 'Hoo.
What would you like to do with your law degree? I am very interested in the public sector and aspire to work at an internationally oriented body involved in economic development or trade regulation. During my summer at the Office of Trade Negotiations, I saw how governments operate on an international level and the impact that trade policies have on our daily life. From export-dependent economies like Taiwan to developing countries that lack hard currencies, trade decides what people eat and wear and which businesses and sectors prosper. I believe lawyers can play an important role in crafting trade and development policies that promote economic efficiency, global stability, income equality, environmental sustainability and fair competition.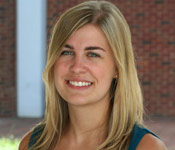 Julie Bentz
Scott R. Owens Dillard Scholar
Hometown: Greenville, South Carolina
College/major: University of Georgia; psychology and criminal justice
Notable work experience: During college I interned at the Public Defender's Office in Athens, Ga. After college, I worked as a legal assistant at Weinberg, Wheeler, Hudgins, Gunn & Dial, LLC in Atlanta. I also volunteered as a Court Appointed Special Advocate (CASA) in Fulton County, Ga.
Why law? I became interested in the law at a young age. After my work and volunteer experiences, I knew that a career in law would be the best fit for me.
Why Virginia Law? I believe that the quality of life at UVA Law is better than that of any other law school in the country. UVA Law encourages students to strike a healthy balance between work and play. I knew that at UVA Law I would not only get an excellent legal education, but I would also thoroughly enjoy the time I spent here.
What would you like to do with your law degree? I am not set on any specific field of law because I realize that my interests may change after my experiences in law school, but I am currently interested in working as a public defender. Eventually, I would like to work in academia.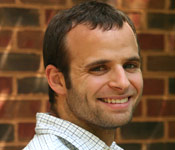 Matthew Harvey
Hardy Cross Dillard Scholar
Hometown: Boise, Idaho
Previous Education: University of Idaho, electrical engineering and Spanish; University of Washington, M.S. in electrical engineering
Notable work experience: I worked for a while as an electrical engineer at Sandia National Laboratories (U.S. Department of Energy), researching ambient energy sources and designing ultra-low-voltage power converters. In grad school, I designed a system to power bio-medical implants using energy harvested from a person's body heat via embedded micro-thermoelectric generators, which was somewhat a continuation of this work. I then decided I didn't want to be an engineer anymore. I thought the legal industry could be interesting but was hesitant to commit to law school, so for the past couple years I've been working as a patent agent in Silicon Valley for Fenwick & West LLP.
Why law? Worried that my career path was becoming too focused and narrow, I was mostly lured by the variety of the opportunities made available by a law degree.
Why Virginia Law? This scholarship was obviously a significant factor, but the final selling point was the atmosphere. I have a lot of outdoor hobbies, so the relatively rural setting is a plus. Also, there seems to be a genuine emphasis on maintaining a normal life outside of coursework, something I strongly believe in. Simply put, I wanted to play softball.
What would you like to do with your law degree? Given my background, something related to intellectual property would be a natural fit, but I don't want to pigeonhole myself. I plan to take a wide variety of courses and keep an open mind. One reason that I sincerely appreciate this scholarship is the flexibility its generosity provides — thank you.