Students, Faculty Contribute to Juvenile Justice Report
Several University of Virginia law students and professors contributed to a report by the Legal Aid Justice Center's JustChildren Program aimed to influence Virginia's approach to juvenile justice.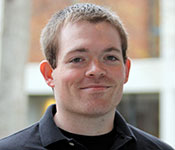 Derrick Johnson
The recently released report, "Don't Throw Away the Key: Reevaluating Adult Time for Youth Crime in Virginia, " examined the impact of 1996 legislative changes that made it far easier to prosecute juveniles as adults.
The study sought to reveal flaws in the current system, which allows prosecutors to remove juvenile cases to adult courts, even when juvenile court judges advise against it.
"I was amazed to see that kids 14 and older can be transferred to the adult system, where the incidence of sexual and physical assault is so high," said Derrick Johnson, a second-year law student who worked on the study. "I can't imagine being 15 and having an adult conviction on my record. It minimizes your prospects for jobs, for college, for everything. I thought rehabilitation was the focus of the prison system, and that it especially should be for juveniles. Having an adult conviction on your record at 15 makes rehabilitation really hard."
Several students assisted JustChildren attorneys by conducting research, writing and editing; planning community and media events; organizing public relations initiatives and creating grassroots initiatives to inform the community about the problems associated with prosecuting juveniles as adults. The study is intended to inform the Virginia State Crime Commission's recommendations for revisions to the Commonwealth's juvenile and criminal justice system.
According to the study, about 700 Virginia youths receive adult felony convictions each year. Because prosecutors have the power to bypass the recommendations of juvenile court judges, the rate of juvenile transfers varies wildly in geographic regions the state. In one city, robbery could result in probation, while the same crime in another city could receive a sentence for adult prison. And while more than 80 percent of the youths tried as adults in Virginia are African-American, they make up only 20 percent of the state's juvenile population.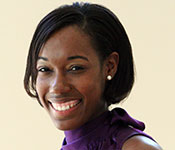 Jeree Harris
"What was shocking was the disproportionate number of minority males tried as adults, " said Jeree Harris, a second-year law student who assisted with the study. "African-American males were more likely to be arrested, more likely to be charged, more likely to be tried as an adult. It becomes more disproportionate at each step."
Often, trying juveniles as adults is not beneficial for the juvenile or the community, said Kate Duvall '06, a JustChildren attorney and Law School lecturer. Duvall's work on the study revealed that juveniles in adult prisons have a higher risk of suicide, are more likely to become victims of physical and sexual assault, and are less likely to be offered educational or other services that would be offered in a juvenile facility. These factors have long-term implications toward whether a juvenile will be reformed or reoffend.
"Trying kids as adults doesn't make our communities more safe — it makes our communities less safe, " Duvall said. "Kids who are incarcerated as adults come out of that process offending at higher rates. Based on this, we know prosecuting juveniles as adults is not making our communities safer."
The study was informed partially through new science showing that human brains don't fully develop the ability to weigh risks and consequences until a person is in his or her 20s. Because society recognizes the differences between adults and youth in many ways, Johnson said it's unreasonable for the court system to turn a blind eye in regard to criminal prosecution.
"We know kids aren't adults. We treat them differently in so many areas, including driving, drinking and voting, " said Johnson, who hopes to work as a public defender. "To treat them the same as adults in regard to crimes just doesn't make sense. At the age of 14, you can't work, you can't drive, but you can go to adult prison."
The report also references the case of a Stafford County teenager who is now represented by JustChildren and the Law School's Innocence Project Clinic. At 15, the teenager pleaded guilty to rape and breaking and entering in juvenile court under the threat of being transferred to the circuit court and tried as an adult for the same crimes.
The alleged victim in the case, a 14-year-old, later retracted her accusations, and the Innocence Project Clinic and JustChildren have been working to overturn the convictions and seek his removal from the state's Sex Offender Registry.
As part of the study's release, Harris and Johnson assisted JustChildren attorneys in the planning of a Community Youth Justice Jam in Norfolk, an area with a high rate of juvenile transfers to the adult system. The event had more than 200 attendees, and featured a poetry slam contest and a panel on the juvenile transfer system.
Media Coverage:
Founded in 1819, the University of Virginia School of Law is the second-oldest continuously operating law school in the nation. Consistently ranked among the top law schools, Virginia is a world-renowned training ground for distinguished lawyers and public servants, instilling in them a commitment to leadership, integrity and community service.