Class of 2012 Starts Law School with Community Service Project
Members of the Class of 2012 kicked off their first year of law school by donating their time to service projects around the Charlottesville area Sunday.
A total of 115 students, including 83 first-years, participated in the effort, which was organized by the Student Bar Association's public service committee.
"I was interested in participating in the service day as a way to get connected with other service-minded students at UVA, as well as to take the opportunity to get involved locally and learn about the needs in the community, " said first-year law student Diane Rish, who painted at the Blue Ridge Food Bank. "It was a great way to connect with new students in a relaxed environment where we were working to complete projects as a team."
Students completed improvement projects at a local school, a park, the Blue Ridge Food Bank, a group home for disabled people and a facility for the mentally ill.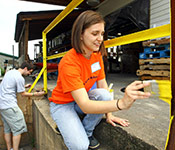 SBA public service committee co-chair Rachel Paul said the effort was designed to make new students aware of opportunities for community service in Charlottesville.
"There's a lot that students can do while they're here for three years, and we want them to find that out early on, " she said. "As great as Charlottesville is, there's a lot of need too."
First-year law student Rob Kiss said he enjoyed giving back to the community that has supported the Law School over the years.
"It is only appropriate that new members of the Law School community be initiated into the friendly atmosphere of Charlottesville by giving back themselves, " Kiss said.
Organizers originally planned for about 30 first-year participants, but many more joined the effort. "We were really thrilled with the response, " Paul said.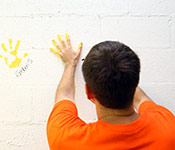 Peer advisors, who help entering students adjust to law school, and SBA public service committee members also participated in the project. Paul said she hopes the committee will make the first-year project an annual event, as well as sponsor a series of service projects throughout the school year.
"We're hoping that next year it will be built into the orientation schedule."
Founded in 1819, the University of Virginia School of Law is the second-oldest continuously operating law school in the nation. Consistently ranked among the top law schools, Virginia is a world-renowned training ground for distinguished lawyers and public servants, instilling in them a commitment to leadership, integrity and community service.