Saltzman '09 Awarded Skadden Fellowship for Public Service Project
Amy Saltzman '09 has been selected as a 2010 Skadden Fellow, a top public service award for recent law school graduates.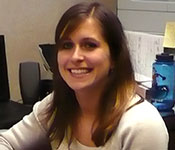 Saltzman will use the fellowship to work in the juvenile justice system in Baltimore, where she will be supervised by the Maryland Disability Law Center.
"I'll be providing direct client representation for those kids, in order to make sure that they get the special education services and mental health services that they are legally entitled to, " she said.
The fellowship, provided by law firm Skadden, Arps, Slate, Meagher & Flom, will supply Saltzman with a $46,000 salary and benefits for two years while she works on her project.
"What is really neat about the Maryland Disability Law Center is that when I told them about this project that I wanted to do, they said they really needed something in that area and were already working on grants to get another person, " Saltzman said. "They already have a specialist in mental health, but haven't been able to go into the juvenile justice system."
Working with juveniles has been Saltzman's goal since she entered law school. Yared Getachew, the assistant dean for public service and director of the Mortimer Caplin Public Service Center, said that as a first-year student, Saltzman was one of the first in her class to schedule an appointment at the center.
"I remember her determination to become an advocate on behalf of disadvantaged youth — the only question was whether she would do so in either the criminal or civil realms, " Getachew said. "She had just spent the year as an AmeriCorps Member where she taught drug education in the Washington, D.C., public school system and had seen first-hand the value of advocacy on behalf of underserved communities."
Children who enter the system as minors often fall behind and miss out on needed services, Saltzman said. As part of her project, she will advocate for special education children who have been placed in facilities and aren't getting the services they are legally entitled to.
"This is something that the facilities are really falling behind on, " Saltzman said. "Most of the time when such children come out of these facilities, they have to drop a grade level because they haven't received any real education while they've been locked up."
She will also be looking at whether required services such as school enrollment, psychiatric care and medications are being set up for children who transfer out of state facilities.
"Our goal will be to make sure that when kids transfer out of the juvenile justice system there is a protocol in place so that they'll not return to the system, " Saltzman said. "A lot of juvenile crime really corresponds to academic failure and mental health problems."
Saltzman's interest in helping kids in need goes back to her high school days, Getachew said, when she attempted to qualify as a Court Appointed Special Advocate for court-involved children, only to find out that she had to wait until her 21st birthday to be sworn in.
That dedication to public service stretched through her time at the Law School. Saltzman served as president of Child Advocacy Research and Education and in leadership positions with the Public Interest Law Association and the Center for the Study of Race and Law. She also volunteered in pro bono projects and received the Claire Corcoran Award for Public Service.
"The set of leadership skills she has added to her legal and advocacy toolkit will allow her to be an effective advocate on behalf of disabled youth involved in the Maryland juvenile justice system, " Getachew said.
Rebecca Vallas '09, who is currently a Skadden Fellow, said she has no doubt that Saltzman's project will be an enormous success.
"I am tremendously excited — though not at all surprised by Amy's selection as a Skadden Fellow, " Vallas said. "She is one of the most impressive people I encountered in law school, and count myself incredibly lucky to have had the chance to know and work with her in classes and on the PILA Board."
Saltzman , who is currently clerking for Magistrate Judge F. Bradford Stillman in the Eastern District of Virginia, will begin her new job in September, and said she hopes her work with children will continue in some form long after the fellowship is over.
"I see my whole career revolving around kids in the justice system, " she said.
Skadden Fellows from the Law School are eligible to participate in the Virginia Loan Forgiveness Program, which provides payment of their law school loans.
Past Skadden Fellows from the Law School include Rebecca Vallas (2009); Dania Davy, Michael Hollander and Matthew VanWormer (2008); Erin Trodden (2006); Janet Stocco (2004); Jennifer Maranzano (2003); Chinh Quang Le (2001); Timothy Freilich and Christine Ellertson (1999); and Mary Bauer (1990). The first Skadden Fellowships were awarded in 1989.
Founded in 1819, the University of Virginia School of Law is the second-oldest continuously operating law school in the nation. Consistently ranked among the top law schools, Virginia is a world-renowned training ground for distinguished lawyers and public servants, instilling in them a commitment to leadership, integrity and community service.