White Edits New John Harvard Library Edition of Holmes' "The Common Law"
Law School professor G. Edward White is the editor of a new John Harvard Library edition of Oliver Wendell Holmes Jr.'s "The Common Law," one of the most famous treatises on law written by an American.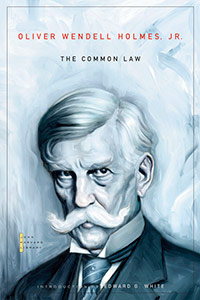 First published in 1881 and never out of print since, "The Common Law" launched Holmes' career as an important legal thinker, leading him to join Harvard's faculty and soon after to serve as a judge on the Massachusetts Supreme Court. In 1902 he joined the U.S. Supreme Court, where he served until 1932.
The last John Harvard Library edition of "The Common Law," edited by renowned Holmes biographer Mark De Wolfe Howe in 1963, was "for many years regarded as the standard," White explained. "I anticipated I wouldn't emphasize the same sorts of things that Howe did. My interest was in situating 'The Common Law' in the span of Holmes's life up to the time he wrote it, and in seeking to explain its remarkable shelf life."
White, who wrote an award-winning scholarly biography of Holmes in 1993 and a briefer version for a trade audience in 2006, said the last 15 years have yielded fresh and valuable scholarship on Holmes. While Howe looked at Holmes' work from the perspectives of intellectual history and jurisprudence, White was able to draw upon recent work that has led to a better understanding of Holmes' life as a whole.
Holmes wrote the book as an extended version of the Lowell Lectures, a series of 12 speeches he delivered in the winter of 1880, when he was practicing law in Boston.
"He wrote it at a time when he was still uncertain about what he wanted to do in the law," White said.
The Lowell Lectures were a public lecture series designed to inform general audiences about academic and professional subjects. White said that though "The Common Law" remains very well-known, and contains some memorably written passages, its full contents are not widely read, primarily because much of Holmes's narrative is not very accessible. "Most of the book consists of fairly obscure discussions of very old cases," he said.
"Almost no one talks about what the book is actually trying to do," White said. He sees "The Common Law" as an effort to identify the variables that judges take into consideration when making a decision, including history, public policy, the constraints of legal doctrine and the evolving character of common law subjects.
In addition to contributing an introduction, White also added a fleshed-out chronology of Holmes' life and an updated bibliography of writings on Holmes. The son of a man who was a doctor and the editor of the Atlantic Monthly, Holmes was interested in becoming as famous as his father. He was wounded in the Civil War three times, served briefly as an academic, and worked as a judge for 50 years, 30 of which were on the U.S. Supreme Court. When he retired in 1932, two months before his 91st birthday, he was the oldest sitting justice in the history of the court.
The new edition of "The Common Law " joins new Harvard paperback editions of "Uncle Tom's Cabin," the "Narrative of the Life of Frederick Douglass," and "The Red Badge of Courage."  Founded 20 years before the Library of America, the John Harvard Library has, since 1959, published classic American writings in authoritative editions.
"The primary readership for White's edition of 'The Common Law 'is undoubtedly' legal scholars and students of law," said John Kulka, executive editor at Harvard University Press. "But Holmes's book does— or should — appeal to anyone interested in American intellectual history. White, in his introduction, argues that Holmes understood that the common law develops both by its own internal argument or logic as well as larger, unarticulated cultural assumptions."
London School of Economics professor Neil Duxbury said that White's edition will help many readers who might ordinarily find it difficult to wade through Holmes' book.
"This new edition contains a very valuable introduction which looks beyond the book's well-known, fortune-cookie proclamations and makes sense of many of its more elliptical passages and arguments," Duxbury said. "Ted White is realistic enough not to try to make out that the book could ever be an easy one to read. But his introduction to this edition certainly makes a compelling case that the contemporary reader might be rewarded for persevering with it."
Founded in 1819, the University of Virginia School of Law is the second-oldest continuously operating law school in the nation. Consistently ranked among the top law schools, Virginia is a world-renowned training ground for distinguished lawyers and public servants, instilling in them a commitment to leadership, integrity and community service.