McDonald '07 to Clerk for U.S. Supreme Court Chief Justice
Jamie McDonald '07 has been hired to clerk for U.S. Supreme Court Chief Justice John Roberts during the court's upcoming term.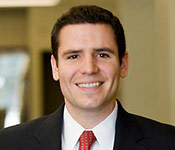 McDonald is currently spending a semester teaching constitutional and foreign relations law at the University of Tulsa College of Law in his native Oklahoma.
"I feel incredibly honored to have a chance to work in Chief Justice Roberts' chambers. When I began law school, that's something I wouldn't have thought in my wildest dreams that I'd have had a chance to do," McDonald said. "Also, knowing other people who have gone through the process and been hired, I feel incredibly honored to be in a group with them and work with them."
Professor Risa Goluboff said she was thrilled but not surprised to learn that Roberts had hired McDonald.
"Jamie's obvious intellect, his seriousness of purpose and his deep intellectual engagement with the law have impressed me ever since I taught him Constitutional Law during his first year of law school," Goluboff said. "Chief Justice Roberts is lucky to have the opportunity to work with a person like Jamie — not only smart, but a wonderful person to boot."
After graduating from the Law School, McDonald clerked for Judge Jeffrey S. Sutton of the 6th U.S. Circuit Court of Appeals, and then spent a year as a deputy associate counsel in the White House Counsel's office.
That office represents the president, and afforded McDonald an opportunity to work on "anything that came in the door," he said.
"We worked on a range of issues from congressional matters to financial issues that were coming up during the last year, to issues involving foreign affairs," he said.
From there, he returned to his hometown of Tulsa to teach for a semester, an opportunity that McDonald said has allowed him to spend some time with his family. He'll return to Washington, D.C., to work for Roberts this summer.
"I understand what a challenging job it will be; this is something that I've thought about over the past few weeks as I've considered how to prepare for the job," he said. "It's impossible, I think, to ever be completely prepared for a position like this, but as I think back, I'm grateful to UVA for preparing me about as well as one could be prepared."
McDonald cited his experience with the Law School's Supreme Court Litigation Clinic as something he will draw from in his new clerkship.
"I think that has provided me and will continue to provide me a foundation that I can build from. I know the clerking will be quite a bit different, but I do believe that I'll be able to build from the base that the clinic gave me and I'm confident that my experience in the clinic will prove invaluable as I try to prepare myself to work as a clerk," he said.
McDonald also cited support from the Law School faculty, students and alumni during his application process.
"As soon as I applied I had a lot of alumni, both young and old, who came forward and gave me advice about how to prepare for interviewing to clerk for a Supreme Court justice," he said. "Having so many people coming forward to help me turned the interview process, which could have been an incredibly daunting experience, into one that I felt well-equipped to handle."
McDonald was waiting outside a restaurant in Tulsa to meet his father for lunch when Roberts' secretary called and asked if he had a minute to speak to the chief justice.
"He got on the phone and offered me the job, and was incredibly nice. I obviously was thrilled and I accepted the job. About 30 seconds later my dad walked up. He said 'How are you doing' and I said 'Pretty good Dad, I just got hired by the chief justice.' And he said 'Well, that's not a bad day.'"
McDonald will join three other Law School alums previously hired as Supreme Court clerks for the upcoming term: Winn Allen '08 will clerk for Justice Samuel Alito, Katherine Twomey '08 will clerk for Justice Antonin Scalia, and Pamela Bookman '06 will clerk for Justice Ruth Bader Ginsburg.
Founded in 1819, the University of Virginia School of Law is the second-oldest continuously operating law school in the nation. Consistently ranked among the top law schools, Virginia is a world-renowned training ground for distinguished lawyers and public servants, instilling in them a commitment to leadership, integrity and community service.