National Jurist Names Schauer Among Country's Most Influential Legal Educators
National Jurist magazine has named Professor Frederick Schauer as one of the most influential people in legal education.
The national publication's current edition recognizes Schauer and two others who "have influenced legal education in some way that continues to benefit current and future law students."
The feature on Schauer cites his work on rules and on First Amendment issues, namely free speech.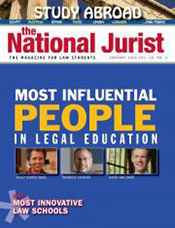 "Those are two areas where I've taken somewhat unfashionable positions that have turned out to have some influence," Schauer said Thursday.
"In terms of rules, it was the prevailing wisdom for a long time that rules get in the way, that judges and other legal decision makers should, to quote Spike Lee, do the right thing, rather than be constrained by formal rules that often dictate suboptimal results. For some years I have been both analyzing the nature of rules and in the process suggesting that rules may have more virtues than the conventional wisdom suggested."
On free speech and press issues, Schauer has long urged that the philosophical underpinnings of that part of the First Amendment deserve more scrutiny than is typically applied by free speech and press enthusiasts.
"At least a fair amount of my work over the years has been somewhat skeptical about the unqualified celebration and advocacy of free speech. Freedom of speech and freedom of the press have important virtues, but they also bring costs, and some of the standard slogans and advocacy deserve a little closer analysis than we have traditionally gotten from much of the free speech culture."
The magazine staff reached their conclusion by talking to "an array of legal professionals, including deans and association presidents, " according to the article.
Schauer, who came to the Law School from Harvard University's John F. Kennedy School of Government, also has an upcoming book from Harvard University Press on the nature of legal reasoning and thinking.
"Thinking Like a Lawyer: A New Introduction to Legal Reasoning," will be published in April.
"The book is a comprehensive analysis of rules, precedent, authority and many of the other devices of legal reasoning, with somewhat of a focus on the formal side of law," Schauer said. "It is designed to be accessible to incoming and current law students, but also to make enough of an intellectual contribution so that scholars and practitioners can wrestle with it and disagree with it as well."
Founded in 1819, the University of Virginia School of Law is the second-oldest continuously operating law school in the nation. Consistently ranked among the top law schools, Virginia is a world-renowned training ground for distinguished lawyers and public servants, instilling in them a commitment to leadership, integrity and community service.